Posted by: Loren Coleman on October 11th, 2006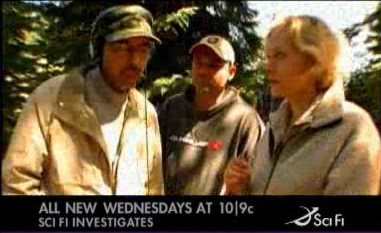 "Sci Fi Investigates" goes on the air for the first time on October 11, 2006.
Boston Rob "plays the skeptic."
Rob Mariano told Boston Herald reporter Amy Amatangelo, during an interview, the following:
To tell you the truth, at first I wasn't sure that I wanted to be involved because it's not something I was really interested in. But after I talked to [the producers], they told me I could be myself and play the skeptic and basically give my point of view as I saw it. Then it became a lot more appealing to me. And I have to tell you with this show, more than any other show I've done, I've just had a blast from beginning to end. . . . I just provide the point of view of the regular guy, the everyday guy. The thing that everybody wants to say but never says, I just throw it out there.
The Bigfoot episode will be broadcast on October 18, 2006. That program was filmed over a weekend with Bigfooter Autumn Williams (above, top right).
Loren Coleman – has written 5489 posts on this site.
Loren Coleman no longer writes for Cryptomundo. His archived posts remain here at Cryptomundo.