Posted by: Loren Coleman on August 20th, 2012
Harry and the Hendersons is an American comedy film about Bigfoot, directed and produced by William Dear, set in the Seattle area. It was released on June 5, 1987.
Figuring out the background inspirations for various elements of the film have been of interest to many of us for years.
Let's look at a few of these.
Don Ameche plays a character in charge of the North American Museum of Anthropology, "Dr. Wallace Wrightwood." The use of "Wallace" in the character's name may have been a nod to the real-life Ray Wallace. Credit for the movie's museum has been given to Cliff Crook, who ran a museum of his own, and reported the movie folks used some of his materials as props in the Hollywood film. The Don Ameche character is generally said to have been crafted as a combination of John Green and Dr. Grover Krantz. A few scenes in the movie use Green's first large format booklets for visuals on the museum's tables.
The character of the possessed, driven French Canadian Sasquatch hunter is "Jacques LaFleur," played by David Suchet. The famed actor is best known for playing the detective "Hercule Poirot" in the long-running British TV dramatic series Agatha Christie's Poirot. It is generally agreed within the Bigfoot research community that the "LaFleur" character was, in general, based on René Dahinden, who was born in Switzerland, and moved to Canada when he was 23, dying there when he was 70.
The Academy Award for Best Makeup was won by Rick Baker for his creature creation, Harry. But was there any specific visual inspiration for Harry? It seemed hard to peg. After all, Bigfoot/Sasquatch don't have facial hair like the beard and whiskers seen in Harry in the film. Where did these come from?
I think I may have discovered an answer to my questions about Harry's true origin.
Recently, Dear and Baker were together in Los Angeles for a signing of a new 25th anniversary poster of Harry and the Hendersons. I began to notice a certain familiarity to the appearance of the poster, and, indeed, to the appearance of Harry, actually.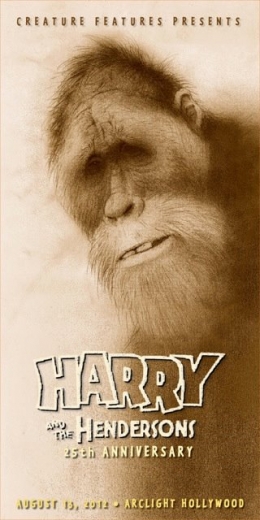 Then it hit me. This is a copycat of the American Museum of Natural History photograph of an orangutan that was published in Ivan T. Sanderson's Monkey Kingdom (1957).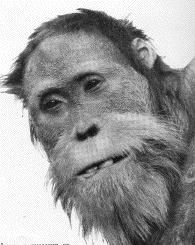 It is often said that ears are like fingerprints, the exact shape of no two are alike. And yet a close examination of this poster's "Harry" and his ears, teeth, head position, facial hair, and more compares quite favorably with the orangutan found in Sanderson's book.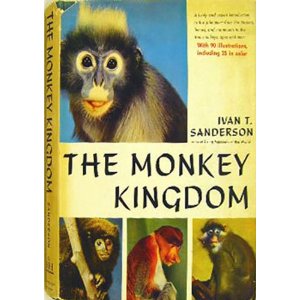 Bingo!
"Harry" in Harry and the Hendersons was then given, purposedly, several poses of its head that mirror this orangutan's photograph.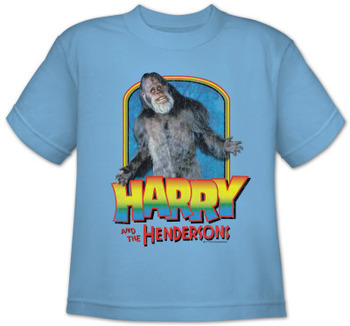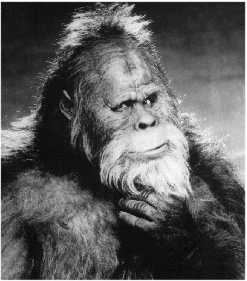 Dr. Wallace Wrightwood: Well, Jacques-o, what's next for you?
Jacques LaFleur: I don't know. There's always Loch Ness.
Loren Coleman – has written 5489 posts on this site.
Loren Coleman no longer writes for Cryptomundo. His archived posts remain here at Cryptomundo.