Posted by: Loren Coleman on August 8th, 2011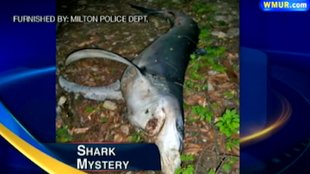 Locals in the small town of Milton, New Hampshire are trying to figure out how a six-foot shark ended up in the region's woods. Floyd Ellis told local station WMUR that his brother found the decomposing blue shark on Thursday. The closest ocean beach is a 45-minute drive away, so authorities think fishers without a license may have caught it there and then dumped it in the woods to decompose when they realized they might get in trouble for the catch. Miltonites at a local pond told the station they had never heard of anything like it.

One man suggested that the incident was likely a real-world extension of the Discovery Channel's annual summer roundup of shark-themed programming.

"It's totally Shark Week," the man said.
Thanks to Marvin Pine for the news tip.
Update: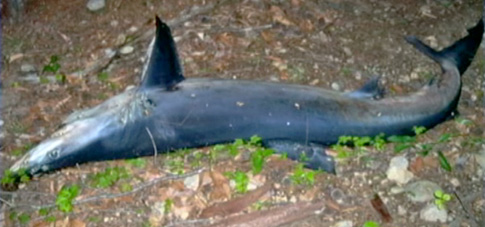 Andy Finkle sends along a new photo (above) and another news treatment (here).
The blue shark (Prionace glauca) is a species of requiem shark, family Carcharhinidae, that inhabits deep waters in the world's temperate and tropical oceans. Preferring cooler waters, blue sharks migrate long distances, for example from New England to South America. They are not known to inhabit the waters of inland New Hampshire, however.
Loren Coleman – has written 5489 posts on this site.
Loren Coleman no longer writes for Cryptomundo. His archived posts remain here at Cryptomundo.