Posted by: Loren Coleman on September 6th, 2007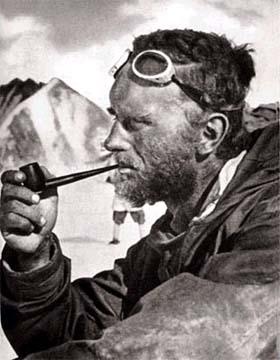 Eric Shipton, above, (August 1, 1907 – March 28, 1977), has a name that will live on forever within cryptozoology, in conjuction with the famed "1951 Shipton Yeti footprints photos." Shipton found these tracks during his exploratory 1951 expedition in which he and his team worked out the now famous route over the Khumbu Glacier to assault Mount Everest.
I thought the death on October 7, 2005, of Michael Ward, 80, closed a living chapter of that remarkable event and soon thereafter, more might be heard from Ward's or Shipton's estates. Ward was the medical doctor, along with Eric Shipton, who photographed these now well-known Yeti (Abominable Snowman) tracks in the Himalaya, in 1951. (See also Ward obit.)
Perhaps what is occurring this month is the result. Many credit Ward with taking the actual photographs of these Yeti imprints, not Shipton. It only makes sense the originals would turn up sooner than later, after Ward's passing.
One or two of those photographs are often shown, but as you can see from some I have gathered here, there is a diversity to the shoots and the framing. A partial footprint is visible in one, a trackway in another, an ice ax used for scale in a photo, and a boot in another. The small collection is on the auction block and a new individual will own a significant piece of Yeti exploration history after September 26, 2007.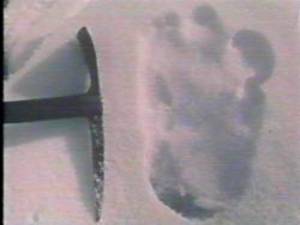 Now a two-day Christie's sale has been announced in which the rare originals of these photographs are being auctioned. These are important historical pieces to cryptozoological history, and I certainly hope they are obtained by someone who will share them for research purposes, at least.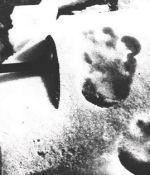 The London newspaper, The Telegraph detailed the sale and had this, in part, to say about it:
The first photographic evidence that the yeti, or abominable snowman, might be more than a flight of Himalayan fancy has surfaced in public and is to be offered at auction later this month.

Four photographs of large paw prints in the snow beneath Mount Everest are to be sold at Christie's in London on September 26.

The images were taken by the legendary British mountaineer Eric Shipton on a reconaissance trip to Everest in 1951, in preparation for the first successful ascent of the 29,028 ft peak two years later.

Tom Bourdillon, who was also in the reconaissance party, later gave Shipton's black and white prints, which measure 6ins by 4ins, to a friend, Michael Davies.

Mr Davies' descendants are now selling the historic souvenirs, which are expected to fetch £2,500.

The first European claim of a sighting of a large bear-like beast in the Himalayas was made in 1925, but there was no photographic back-up until Shipton's pictures.

On the back of one of his images, Bourdillon wrote to Davies about the team's sighting of the prints.

He said: "We came across them on a high path on the Nepal-Tibet watershed during the 1951 Everest expedition.

"They seem to have come over a secondary path at about 19,500ft down to 19,000ft where we first saw them and then went on down the glazier.

"We followed them for the better part of a mile. What it is I don't know, but I am quite clear that it is no animal known to live in the Himalaya and that it is big."

Edmund Hillary, who first climbed the mountain with Tenzing Norgay, later said in a book that a member of his successful party had found a tuft of long black hairs on a rock. The hairs were said to look like bristles.

Publication of Shipton's pictures prompted several expeditions to search for the yeti but they all proved to be inconclusive."Yeti footprint photos go under the hammer,"by Nigel Reynolds, Arts Correspondent, The Telegraph, London, UK, September 4, 2007.
If Cryptomundo learns whom the new owner is, you will be the first to know.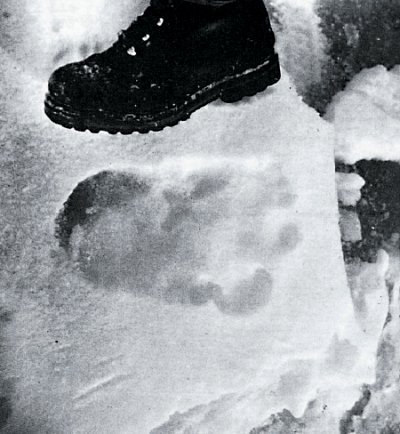 Loren Coleman – has written 5489 posts on this site.
Loren Coleman no longer writes for Cryptomundo. His archived posts remain here at Cryptomundo.