Posted by: Loren Coleman on August 29th, 2009
You might want to think carefully about what shirt or hat or coat you are wearing next time you have someone take a Bigfoot-related photograph of you.
Years later, you never can tell what someone else might be saying about it.
One of the strangest pieces of "evidence" ~ which is still posted on the Internet ~ in support of M. K. Davis's Bigfoot "massacre" and "coverup" theory is what he's done with a series of pictures of Roger Patterson holding the 1967 filmsite Bigfoot casts.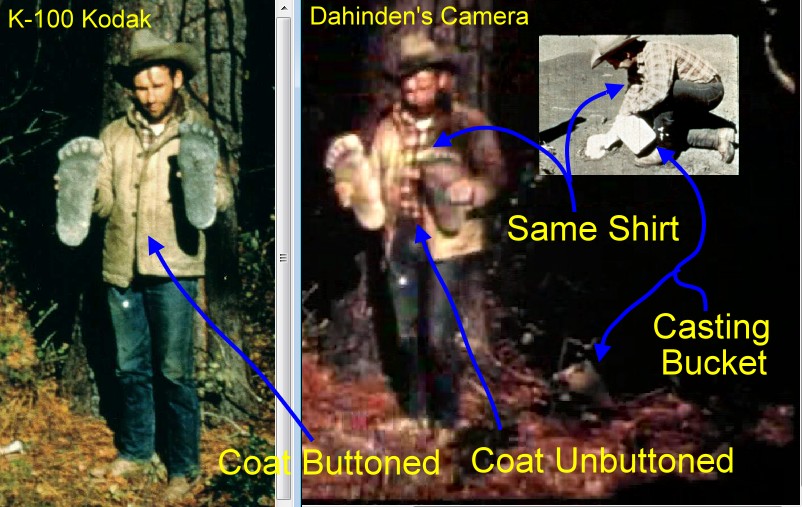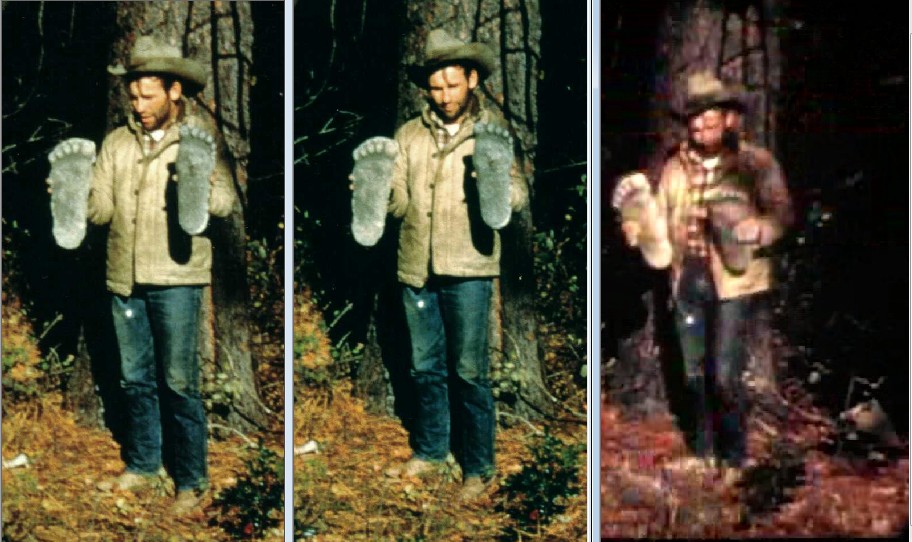 M. K. Davis appears to have seriously mislabeled, once again, with the use of his "lines and arrows" comments, well-known photographs to create a conspiracy. Take the one on the right, labeled with "Dahinden's Camera." This image is being presented to the world as primary evidence to support Davis's implications of something which never happened.
According to long term research from the likes of Christopher Murphy and others, these images were taken at Bluff Creek. They are on the second film roll that Patterson was going to use for his documentary, not "Rene's film." The images were naturally taken by Bob Gimlin using Roger Patterson's rented camera.
Murphy, working with image upgrades from Bill Munns, passes this along: "The images are on the second roll. I am reasonably sure this roll was sent for processing with the other roll on the evening of October 20. The film images could not, therefore, have been taken in Yakima, or anywhere else for that matter, the next day.
"Given the second roll was not sent with the first roll: The images are taken in sunlight. It rained the next day. Although I suppose the sun could have come out briefly.
"Patterson is unshaven and in his grubby clothes. If he took the images the next day, then he either did not shave or change (slept in his clothes) or put the same cloths on the next day for the benefit of the photos. (All certainly possible, but not probable)."
See Chris Murphy's in-depth comparative analysis of these images, placing them at Bluff Creek, in his pdf, questioned-photo-patterson.
John Green writes on August 29, 2009: "I am sure Rene was not ever at Bluff Creek when Roger was. When I contacted him about Roger getting a movie he was well to the south, I believe in San Francisco. Roger could, of course, dress the same on two different occasions. If it can be established that any particular picture was taken at the film site, then, of course, Bob Gimlin would have to have taken it."
Loren Coleman – has written 5489 posts on this site.
Loren Coleman no longer writes for Cryptomundo. His archived posts remain here at Cryptomundo.