Posted by: Loren Coleman on September 2nd, 2006
Mothman mysteriously appeared and for 13 months was seen in a Banshee-like wave of sightings. Then the Silver Bridge fell. Maybe there's a connection, maybe there isn't. With all due respect, do you know how many died in that tragedy? Why have my buddies at the Fortean Times forgotten to fact-check this significant detail before publishing a Letter to the Editor about it?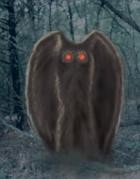 Bill Rebsamen's image of the Mothman created for the cover of my book on the subject.
In the new issue of the Fortean Times, # 214, for October 2006, on page 71, in a letter entitled "Silver Bridge," a male correspondent writes in with a story about how he recorded the BBC1 transmission of the movie The Mothman Prophecies. He had a videotape recorder that apparently marks up to a total of 38 chapter points on the recording.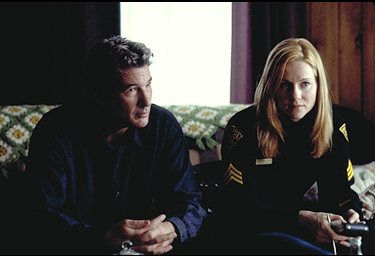 Richard Gere and Laura Linney appear in a scene from The Mothman Prophecies.
The letter writer mentions he began to have stuttering and freezing of the video toward the final moments of the movie. He writes that the tape became faulty "…eventually freezing up altogether and becoming unwatchable. The chapter point? Chapter 36 – the same number as the people who died in the Silver Bridge tragedy at Point Pleasant. Weird hud?"
Well, actually not. Hey, not surprisingly, the movie was highly fictionalized. In reality there were 46 victims of the Silver Bridge collapse on December 15, 1967. Two of the reasons that the Mark Pellington-directed movie The Mothman Prophecies used 36 for the total number of dead were (1) the director and writers felt 46 was too large a number and no one would believe it, and (2) "36″ was the number of Pellington's father's football jersey.
Ironically, my article "The Mothman Death Curse" appeared in the August 2004 issue of Fortean Times and recorded the total number as 46 for those who died from the bridge accident. It also lists examples of the others linked to the Mothman events who have experienced mysterious deaths in other circumstances. Also, of course, the total victim death count of 46 for the Silver Bridge collapse is a fairly well-known factoid among Forteans, Mothman students, and some The Mothman Prophecies fans.
Loren Coleman – has written 5489 posts on this site.
Loren Coleman no longer writes for Cryptomundo. His archived posts remain here at Cryptomundo.