Posted by: Loren Coleman on March 13th, 2012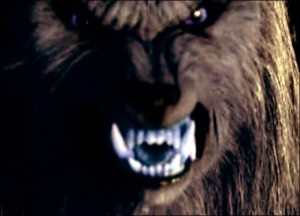 Skinwalker drawing for illustrative purposes only. Not associated with Navajo Cops.
From the Diné (the Navajo)….
This breaking notice has just been sent my way:
NAVAJO SKINWALKER CAUGHT ON TAPE

National Geographic's NAVAJO COPS series has captured the sounds and VIDEO of a mysterious Bigfoot-like creature that the local Navajo call "The Howler."

NAVAJO COPS' premier episode showed the reservation's tribal police force investigating reports of a mysterious sounds from a creature called "The Howler." Some on the reservation claimed the howling came from a Bigfoot, others said it was a Skinwalker – a malevolent, werewolf-like Navajo spirit made famous in Tony Hillerman's novels.

In the upcoming NAVAJO COPS episode called "Eyes of the Howler," officers pursue reports of the creature deep into the back-country, where a SWAT team encounters the disturbing howls (caught on audio) and track the noise to a cave – where video reveals a disturbing set of red-rimmed eyes…

The Navajo Nation police department makes it a policy to investigate supernatural encounters… though "Eyes of the Howler" episode has the best video and audio evidence of the mysterious being.

You can see and hear some of the best evidence of this Navajo version of Bigfoot on NAVAJO COPS – "Eyes of the Howler," National Geographic Channel, Monday March 19, 10 pm.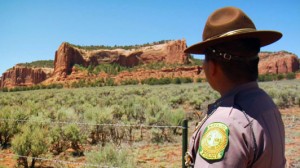 Further details are coming in…this from an individual involved: "I'm supervising producer on the series. I wasn't with the crew that shot the Howler footage… but I can tell you that cameramen and producers were thoroughly spooked. Not only did they hear the weird howling -which freaked them out – they all saw this pair of eyes watching them from a small cave… and the eyes disappeared by the time the police arrived there. I don't know how to explain the phenomena (and there may be dozens of 'ordinary' explanations) but I do know that the traditional Navajo officers were convinced they had encountered, heard and seen a Skinwalker, with the results caught on tape."
Here is how the program is being promoted on the NatGeo schedule site:
"10:00 PM to 11:00 PM Navajo Cops: Eyes of the Howler
"Navajo Police Officers mount a new hunt for The Howler a mysterious creature believed to have killed dogs and livestock. Some of the elders in the community suspect it might be a Skinwalker, while others insist that its the Navajo version of Bigfoot. As they sweep through a remote canyon, the heavily-armed cops actually hear the chilling sound caught on tape and they think its coming from a cave high in the cliffs. Have they finally tracked down the elusive Howler?"
Loren Coleman – has written 5489 posts on this site.
Loren Coleman no longer writes for Cryptomundo. His archived posts remain here at Cryptomundo.