Posted by: Loren Coleman on May 1st, 2010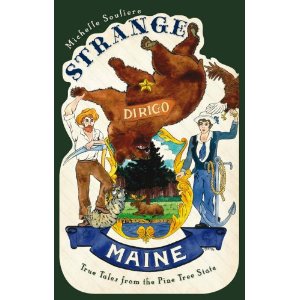 Strange Maine: True Tales from the Pine Tree State has been published. This book is a great and significant addition to the growing regional literature on the unknown by new authors who are out there digging up new and old information overlooked by previous writers, investigators, and historians.
If you live in New England or visit here, you will want to obtain this book as quickly as possible.
But don't be put off by what you read, online, about ordering it.
For example, sometimes the descriptions about delivery at Amazon.com are so disturbingly incorrect to be insane. For example, if you look there today, you will note that it says that Michelle Souliere's new book, Strange Maine: True Tales from the Pine Tree State, which was released on April 30, 2010, "usually ships within 1 to 2 months."
Two months? That is enough to discourage anyone taking a vacation in Maine this summer thinking they might read the book before they come.
Don't believe everything you read from online booksellers!
Okay, a couple things about that. First of all, you can stop by the Green Hand Bookshop in Portland, Maine, and pick up a copy directly from the author, today. She'll even autograph it. Or, if you are far away from Maine, you probably can order it from Amazon or your local bookstore, and have it next week, not next month!
Disclaimer: Even beyond the fact that Michelle Souliere did a remarkably outstanding job with that last chapter of her new book, Strange Maine, about the International Cryptozoology Museum, I would find this to be a great book for anyone to read who is seriously and/or casually interested in Fortean things, creatures, and more that go bump in the Pine Tree State! This volume is highly recommended for those who wish to wander and explore the wonder-filled world of Maine with a great guide at the wheel! And I do mean this whether it is from your favorite reading chair, your local library, your bus or train trip to Maine, or from a vehicle you actually are steering.
Here's a little about Strange Maine: True Tales from the Pine Tree State and the author, from the History Press's overviews.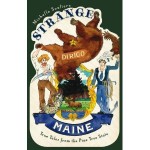 Product Description
Maine is well known as a land of fresh air and clean water, as the home of L.L. Bean and as one of the most popular camping and outdoor recreation destinations in the country. But what lies behind this idyllic facade? Freaks. Weirdos. Unmapped roads. Whispering rocks. Deadening fog. Ghost pirates. Lonely islands. THINGS in the woods. This is the great state of Maine, home of Stephen King, land of the Great Northern Woods and all the mystery that lies within their dark footprint. What better setting than this for tales of strange creatures, murderers, madmen and eccentric hermits? From the "Headless Halloween of 1940″ to Colonel Buck's curse, from Bigfoot sightings to the "witch's grave" in a Portland cemetery, writer and illustrator Michelle Souliere brings to life these strange-but-true tales from the Pine Tree State.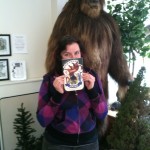 Mr. Jeff Meuse was the very first patron to buy the new book, Strange Maine, in Ms. Michelle Souliere's Green Hand Bookshop. Here, the new author holds Mr. Meuse's copy of that book.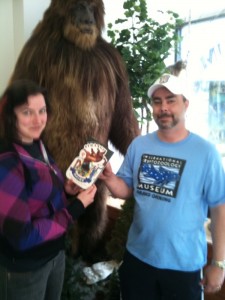 About the Author
Michelle Souliere is the author and editor of the Strange Maine blog, winner of the Portland Phoenix's "Best Blog" award in 2008 and 2009, and the Strange Maine Gazette, its print offshoot. She is the founder of the Green Hand Bookshop in Portland, Maine. Michelle spends much of her so-called free time doing research for Strange Maine, and collecting stories from friends and strangers that feed this pursuit. Another activity commanding a portion of her time is that of creating artwork for local display and publication, which includes drawing, painting, and ridiculous amounts of photography. Her bookshop is kept interesting by its adjacency to the International Cryptozoology Museum, a decor made up of curious and sometimes inexplicable knickknacks, and a constant deluge of incoming books (bring waders). She likes Maine very much.
Congratulations to Michelle, upon the occasion of the publication of her first book!
Loren Coleman – has written 5489 posts on this site.
Loren Coleman no longer writes for Cryptomundo. His archived posts remain here at Cryptomundo.