Posted by: Loren Coleman on January 29th, 2009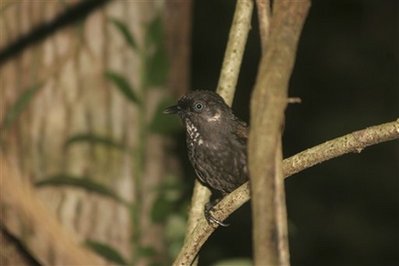 This photo has been released by Birdtour Asia of a Nonggang babbler (Stachyris nonggangensis). This newly discovered species was photographed in southwestern China's Guangxi in December 2008. The new species of the fist-sized, babbler bird was found in network of underground caves in China, raising the prospect the country could become a hot spot for other new discoveries, a conservation group said Thursday, January 29, 2009. (AP Photo/Birdtour Asia, James Eaton, HO)
I first posted about this here on June 18, 2008, but there's been a "new" announcement today. I shall re-visit the discovery, with various new quotations, as I'm sure you'll be seeing this in various places during the next two days.
"This is exciting evidence that there could be many more interesting discoveries awaiting ornithologists in China," said Nigel Collar of Birdlife International, which announced the discovery.
Ornithologists Zhou Fang and Jiang Aiwu first spotted the dark brown bird with white specks on its chest in 2005 and have since confirmed its identity as an undescribed species.
"The discovery shows that there are still some birds that haven't been (identified) yet in China, such a vast territory that is rich in biodiversity," Zhou said in a statement.
A formal description was published during 2008, in The Auk, which is the quarterly journal of the Virginia-based American Ornithologists' Union.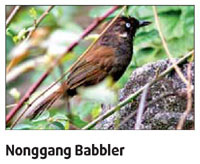 Loren Coleman – has written 5489 posts on this site.
Loren Coleman no longer writes for Cryptomundo. His archived posts remain here at Cryptomundo.