Posted by: Loren Coleman on March 28th, 2008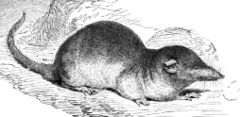 The Greater White-toothed Shrew (Crocidura russula), shown above, is a small shrew found in Europe and North Africa, and related to the species newly discovered.
A new, endemic species of shrew Crocidura hikmiya, has been described from Sri Lanka. The new shrew is presently only known from mid-montane and lowland rainforests of Sinharaja.
This shrew was previously been identified as Ceylon Long-tailed Shrew (Crocidura miya). However the latter species is now believed to be confined to the montane forests of the central hills. The researchers believe that the most frequently encountered shrew in Sinharaja is the new species.
This raises the number of shrews in Sri Lanka to ten of which six are endemic to the island.
The researchers Suyama Meegaskumbura, Madhava Meegaskumbura, Rohan Pethiyagoda, Kelum Manamendra-Arachchi and Christopher J. Schneider published their findings in Zootaxa on 19th December 2007. The paper was titled "Crocidura hikmiya, a new shrew (Mammalia: Soricomorpha: Soricidae) from Sri Lanka." (Credit: Wildlife Extra.)
Please note, the recent news (see photo below) of the new discovery of the giant elephant-shrew or sengi (Rhynchocyon udzungwensis) issued from Tanzania, Africa.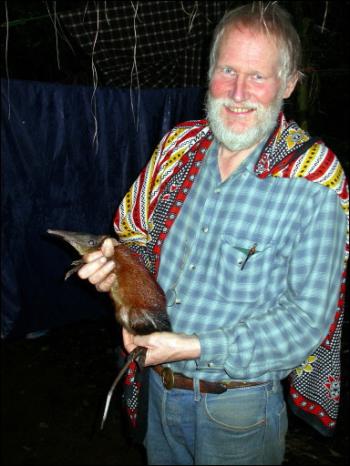 Galen Rathbun with sengi. Photo credit: David Ribble
Loren Coleman – has written 5489 posts on this site.
Loren Coleman no longer writes for Cryptomundo. His archived posts remain here at Cryptomundo.