Posted by: Loren Coleman on April 14th, 2010
Since I'm getting messages from all over about the Maine story of a "strange skull," I better post about it before my emails get out-of-hand.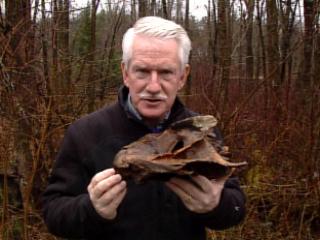 Yes, I know about reporter Bill Green's story about a guy keeping a skull in his garage, and it leaking fluids. I too know that Green is getting excited about it. I've known about it for several days, and have found it to be decidedly uninteresting.
Why am I not excited? For starters, this skull has been in this guy's garage for 15 years. Next, it reportedly was identified some time ago as probably a sturgeon's. Green and the skull owner are pointing to holes in the skull as if they really might be eye openings, without any realization that known species' skulls have sinus and other holes in normal animal skulls. It appears to be a big fish's skull, er, like an Atlantic sturgeon's.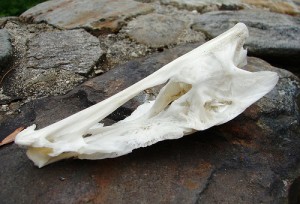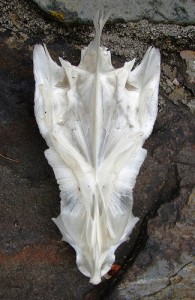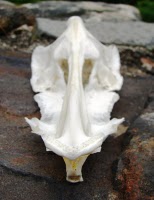 New sturgeon skulls (above), varied species.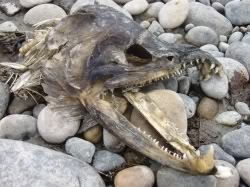 Salmon skull, old (above).
Take it to an aquarium, guys, if you want a firm answer. Why all the melodrama?
Ask yourself: Why now, after 15 years? Spring cleaning? Why is it interesting?
First, there was an "Oriental Yeti" that probably is a mangy civet, and next there appeared a Michigan "chupacabra" that probably is a mangy coyote.  Now everyone is jumping up and down about a decaying skull that probably is a (not literally, but  figuratively) mangy sturgeon!
Too bad this much attention wasn't given to last week's rather remarkable finding of a brand new species, the six-foot long Komodo dragon relative on Luzon!
Loren Coleman – has written 5489 posts on this site.
Loren Coleman no longer writes for Cryptomundo. His archived posts remain here at Cryptomundo.