Posted by: Loren Coleman on November 16th, 2009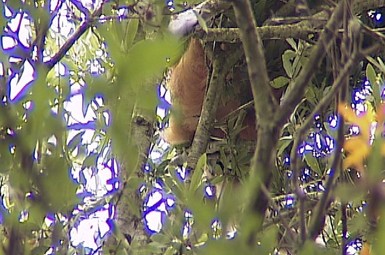 Peter Masa/Tampa Tribune photo.
What was the "something" in the trees above 3001 E. Elm St. in Tampa, Florida, just south of Sligh Avenue, west of the Hillsborough River, photographed about five days ago.
Various theories have been put forth. Official thoughts said it was a monkey, then some figured it was a large raccoon, but finally authorities told the media it was believed to be a macaque.
"An officer [of the Florida Fish and Wildlife Conservation Commission] went up into the tree to get a better look at it," a commission spokesman said.
"It's like looking for a needle in a haystack," he said. "If somebody calls us, we'll go out and try to dart it."
But they weren't able to get close.
If it is a macaque, the officers said they have no idea from where it came. It might be an escapee. There's a breeding population of rhesus macaques living in the semi-rainforest of the Silver Springs area, near Ocala; officers didn't know if there is a connection, they told the Tampa Tribune.
No one has filed a missing monkey report. (A permit is required in order to have a monkey.)
Lowry Park Zoo officials said the animal wasn't from their facility.
"All of ours are accounted for," zoo spokeswoman Rachel Nelson said on November 11th.
The Florida Fish and Wildlife Conservation Commission has since given up the search for the mystery animal.
But the photo remains.
Loren Coleman – has written 5489 posts on this site.
Loren Coleman no longer writes for Cryptomundo. His archived posts remain here at Cryptomundo.