Posted by: Loren Coleman on January 25th, 2009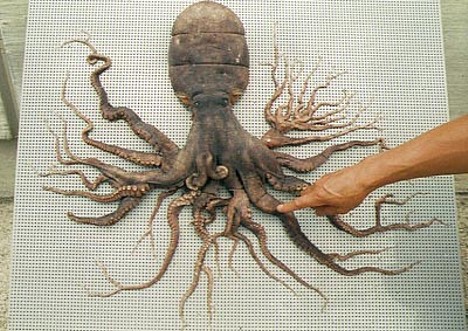 The 1998 octopus / Matoya Bay.
It is very rare in nature to find octopuses with extra tentacles, but in December 1998, a common octopus was captured in Matoya Bay, Japan, which had a whopping 96 tentacles.

The unusual octopus had the normal 8 appendages attached to the body, but each one of those branched out to form the extra tentacles. The specimen survived for five months after its capture, and even laid eggs, which hatched into normal 8 tentacled octopi. Upon its death, the 96-tentacled octopus was preserved and now remains on permanent display at the Shima Marineland Aquarium in Shima, Japan.

This was not the first instance of an over-tentacled octopus specimen being displayed in Japan.

In 1957, an octopus with 85 tentacles was caught at Toshijima Island in Japan. It was put on display at the Toba Aquarium in Toba, Japan, where it became quite famous before being loaned to the National Museum of Nature and Science in Tokyo.

After that, it went back to Toba Aquarium where it remained on permanent display until it was put in storage in 1985 when the aquarium was moved to another location.

The Toba Aquarium has on many occasions displayed extra tentacled octopuses, both preserved specimens and some that were living for a time, as well.

The original 1957 specimen is occasionally put out on temporary display even now.

It is thought that these extra tentacles could form due to an abnormality in the regeneration process of a missing appendage, however whether this is the actual cause remains unverified.

Anyone for sushi? Brent Swancer
The 1957 octopus / Toshijima Island.
Loren Coleman – has written 5489 posts on this site.
Loren Coleman no longer writes for Cryptomundo. His archived posts remain here at Cryptomundo.