Posted by: Loren Coleman on May 19th, 2009
You thought Leigh Hart's overview of the Ohio Bigfoot conference was bad enough. Wait until you see what he does with the raging, rampaging, raping Bigfoot of Northern California. It appears the same goes for Hart on the Loch Ness Monster, as well. (Read more here, about his recent Ohio hoax, at the "Kiwi Hoax" and the "Kiwi's Apology.")


Photo By Michael Neilson/The Daily Jeffersonian/May 4, 2009
Caption published by the Ohio newspaper: Area Bigfoot authority Don Keating is interviewed by Leigh Hart, host of Mysterious Planet, a New Zealand television series dealing with strange phenomenon. The interview was during the 21st annual Bigfoot Conference/Expo Saturday at Salt Fork Resort and Conference Center. Filming is videographer Brent Spillane.
Is there really a "Mysterious Planet" program or was that part of That Guy, Leigh Hart's hoax/spoof? Who knows, but has the New Zealand government been fooled into paying for Hart's travel and gags under the premise he is doing a serious documentary?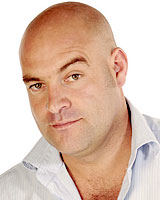 Clearly, Leigh Hart has the funding for this "next adventure" for his government has disclosed their public funding for his "project":
In the second quarter of the FY2009 financial year (Sept to Dec 2008), TVNZ committed just over $2.2 million in Direct Government Funding to three programmes – one entertainment, one factual and one special interest programme.
Direct Government Funding is granted to TVNZ to allow the production of programmes that would not be made in a wholly commercial environment. The Company reports quarterly on programme commissions made with the funding. It also reports in the Interim and Annual Reports on all Direct Government Funded programmes that have been screened in the preceding six months.
…
Documentary/Factual
Programme: That Guy's Mysterious Planet
Production Company: Moon Enterprises Ltd
Duration: 6 x half hour
$ committed: $396,003
$1.00 (New Zealand Dollar) = 0.602374 (United States Dollar)
$396,003.00 NZD = $238,561.30 USD
On earlier this year, Leigh Hart published yet another one of his New Zealand Herald columns semi-spelling out what he is up to next. Of course, he probably figures that no one in North America has read this, if his past assumptions are still at work.
But some of us actually are "watching" Leigh Hart now:
In just a couple of months you will be able to join me, the explorer and "expert" and "proud New Zealander", as I take a long, hard look at the world's greatest mysteries and in the process, myself. Armed with an internet archaeology degree, a healthy dose of scepticism and a credit card, I will embark on a quest that will take me and my hand-picked team far from home, to some of the most intriguing, remote, and physically challenging locations in the world.
…
I will dig for the truth, whether it's trekking through South America in search of El Dorado, the lost city of gold, taking part in expeditions to net Big Foot and the Loch Ness Monster, or asking the hard questions at the UFO capital of the world, Roswell.

Until now, nobody overseas has been able to solve these age-old mysteries, so I believe its time to give the Kiwis a shot!
…
Amidst all the exciting and exotic travel and my attempts to shed new light on these age-old international mysteries, I will endeavour to find a New Zealand connection in just about everything I explore. Often these connections may be surprisingly solid but more often than not they will be incredibly flimsy at best, and clearly a result of having been funded by TVNZ.

It takes a unique talent to be able to find a New Zealand connection with mysterious history that is sometimes thousands of years old but, if it can be done, I believe I am the man to do it.

My doco team will camp for a number of days in the northern Californian wilderness. This is Bigfoot's backyard, but probably of more concern is the fact that it is also the home of many more tangible beasts such as grizzly bears, wild cats and some very stupid and possibly inbred people. I will talk to many people who claim to have had first-hand encounters with the legendary Bigfoot, including a guy called Dan who maintains he was raped repeatedly by the beast back in 1964.

As promised, we also meet New Zealanders who have had first-hand experience with Bigfoot, specifically the Thompson family from Dunedin who claim their camper van was attacked by Bigfoot while on holiday just north of San Francisco – an attack that regrettably wasn't covered by their vehicle insurance package.
…
Leigh Hart's Mysterious Planet will air on TV2 later this year – or will it?
One of Leigh Hart's previous trips to Bigfoot country:
P.S. To all my friends at Loch Ness, watch out too. Perhaps you understand his Scottish humor via New Zealand, but I know you've had your fill of Nessie-ridicule-humor.
But, it appears the media thinks the first stop will be…Peru.
Rachel's blog: "In the Sunday papers: May 17 2009″:
"Leigh Hart is going to Peru to film a documentary series for TVNZ entitled Leigh Hart's Mysterious Planet in search of the mythical city of gold, El Dorado."
Loren Coleman – has written 5489 posts on this site.
Loren Coleman no longer writes for Cryptomundo. His archived posts remain here at Cryptomundo.