Posted by: Loren Coleman on July 27th, 2006
Cryptomundo pal David Pescovitz over at Boing Boing, on July 27, 2006, posts news of the latest beaching of a relative of the ribbonfish and oarfish. These types of fish may infrequently have been mistaken for Sea Serpents.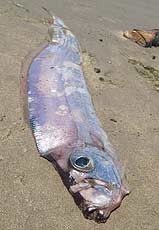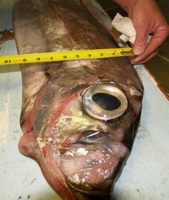 David writes:
Huge fish washed up in Oregon
This huge King-of-the-Salmon fish, nearly six feet long, washed up on the shore near Seaside, Oregon last weekend. These rarely-spotted fish, Trachipterus altivelis, usually are found at depths of 1600 feet.
Pescovitz shares more in his blog on this.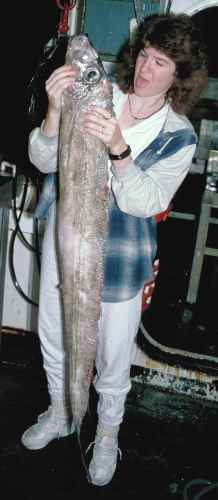 Despite such a comparative remark on my part, the appearance of these animals on shore may not be so Sea-Serpent-like in the ocean. From The Field Guide to Lake Monsters, Sea Serpents, and Other Mystery Denizens of the Deep:
There are…very real animals that people might mistake for Sea Serpents…. One is the Oarfish. Reaching lengths of 36 feet (perhaps even 50 feet), this pale silver fish with blue streaks is the longest bony fish in existence. The oarfish is found in subtropical waters and has two long narrow pelvic fins. But aside from its size, the oarfish cannot extend its head above the water, and along its spine is a bright red crest—two factors that reduce the likelihood of misinterpretation as a Sea Serpent. Furthermore, the oarfish spends most of its time swimming in a vertical position, not a horizontal one, as would be expected from a Sea Serpent lookalike.
Photos: The full-body and head only images of the actual new beached fish are from the Salem News and Beach Connection. The two older photos with scientists comparing themselves to the length of previously found Trachipterus altivelis are offical United States government public domain photos. I guess you'd do the same thing in a similar situation, right?
Loren Coleman – has written 5489 posts on this site.
Loren Coleman no longer writes for Cryptomundo. His archived posts remain here at Cryptomundo.