Posted by: Loren Coleman on March 23rd, 2006
Breaking news from Malaysia is hitting the wires today that local authories are bulldozing and destroying physical evidence of the Johor Bigfoot. Cryptozoologists and hominologists are outraged. Our message to Malaysia: Stop the destruction!
Reports for March 23 exclaim:
Tracks resembling giant footprints in forests around Kampung Lukut and Kampung Temening are being erased, seemingly to distract foreign tour groups on Bigfoot sighting expeditions here. The authorities have cut the eco-tourist influx at these villages and nearby foothills by bulldozing and clearing the secondary forest where the Bigfoot footprints and other evidence were discovered.
The New Straits Times broke the story, after they found the secondary jungle area beside the tar road where a set of Bigfoot footprints was first found by local jungle trekker Kong Nam Choy on January 16, 2006, was destroyed.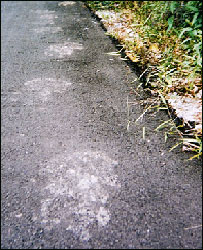 Tracks found by Kong Nam Choy in January 2006.
After the Destination: Truth expedition of February 20 found footprints at Kampung Lukut, a new wave of ecotourism was stimulated and foreign tour groups came in large numbers.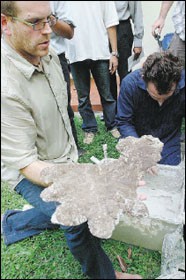 The cast discussed around the world: Joshua Gates shows the media the footprint cast his group discovered in February 2006.
After the initial media flap concerning this first foreign discovery, tour groups in Singapore began organizing Bigfoot tours to Kota Tinggi. Reportedly, tourists would arrive in cars and vans at 6 am, to trek into the secondary jungle. Authorities reaction to this: destroy the cryptotourists' objective, the jungle where the prints exist.
The reporter R. Sittamparam, in the New Strait Times for March 23, 2006, makes this observation:
It is sad to note that the authorities who showed little interest in promoting ecotourism here had chosen to take this most irrational step to stop the foreign visitors following the global interest in the Johor Bigfoot.
Biodiversity researcher, Vincent Chow said with some help from the relevant authorities, the villagers in the area could have reaped some benefits from the tourism potential of the area.
"The people's representative here should look into developing this ecotourism potential and charge visitors a fee to enter their land and provide car parking or guide service.
"The whole of Kota Tinggi should be promoted as Bigfoot country as ecotourism has already been generated by the Bigfoot phenomena here."
Clearly, merely from a scientific point of view, this is a major disaster. Destroying evidence and habitat, and not dealing with simple crowd control, is hardly a responsible reaction to an overwhelming interest by the general public in the mystery of the Johor Bigfoot. Our hope is that the authorities re-think what they are doing.
Loren Coleman – has written 5489 posts on this site.
Loren Coleman no longer writes for Cryptomundo. His archived posts remain here at Cryptomundo.