Posted by: Loren Coleman on March 19th, 2011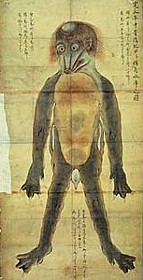 An important essay entitled "Seven Mysterious Creatures of Japan" was written in 2008. It is worth your reading, especially if you are not familiar with the Hibagon (unknown anthropoid), Kusshii (lake monster), Isshii (lake monster), Giant Snake of Mt. Tsurugi, Takitaro (giant fish), Kappa (merbeing, shown above), and Tsuchinoko.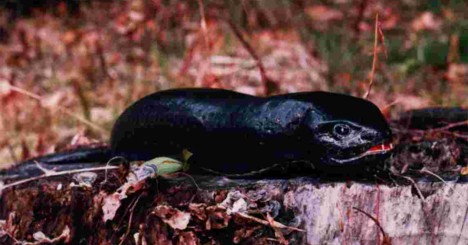 Specifically, I point to the Tsuchinoko paragraphs, for at the time, a new expedition was planned for June 8, 2008, to search for this well-known Japanese cryptid. This search for the Tsuchinoko was tied to a reward for the creature.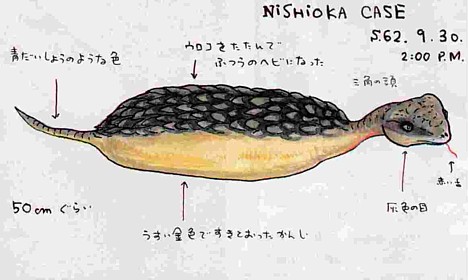 Here is what the Pink Tentacle has to share: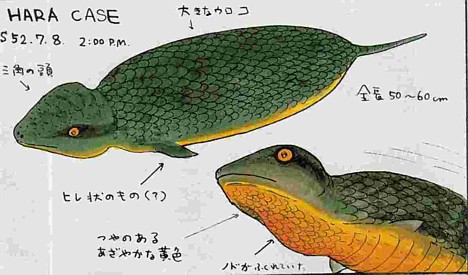 The Tsuchinoko is a snake-like cryptid found throughout Japan, except in Hokkaido and the Okinawan islands. Reports describe the Tsuchinoko as having a thick, stubby body measuring 30 to 80 centimeters (12 to 30 in) in length, often with a distinct neck, gray, brown or black scaly skin, and venomous fangs. Some accounts suggest the Tsuchinoko has a loud, high-pitched squeak and can jump as far as one meter.

The earliest known written record of the Tsuchinoko dates back to the 7th century, where it appears in the Kojiki (Records of Ancient Matters), the oldest surviving book in Japan. In some legends, the Tsuchinoko can speak, has a tendency to tell lies, and enjoys the taste of alcohol.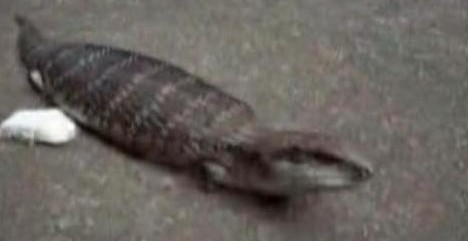 Skeptics dismiss Tsuchinoko sightings as simple cases of mistaken identity, suggesting the creatures are nothing more than snakes in the process of digesting large meals, or perhaps even escaped exotic pets such as the blue-tongued lizard.

Regardless, local tourist boards in rural areas frequently organize Tsuchinoko hunts to attract visitors, promising large sums of money to any participant lucky enough to capture one. The town of Itoigawa in Niigata prefecture, for example, has a hunt scheduled for June 8, 2008 and is offering a 100 million yen (about $1 million) reward to whoever brings one back alive. [More here, if you read Japanese.]
The reward remains uncollected, as of March 2011.
Loren Coleman – has written 5489 posts on this site.
Loren Coleman no longer writes for Cryptomundo. His archived posts remain here at Cryptomundo.