Posted by: Loren Coleman on January 24th, 2008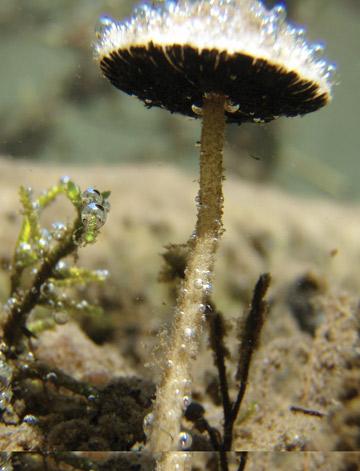 Photo by Robert Coffan – The Psathyrella aquatica mushroom, pictured above, was recently discovered by scientists in the Rogue Valley, Oregon.
The Southern Oregon University environmental studies and biology faculty will share their discovery of a new species of mushroom that grows underwater – the first of its kind – in a presentation tomorrow in Ashland, Oregon. The new species is called Psathyrella aquatica.
The multimedia presentation will be given by Robert Coffan, adjunct professor of environmental studies; Jonathan Frank, biology research technician; and Darlene Southworth, professor emerita, biology.
The event begins at 2:30 p.m. with refreshments, and the presentation begins at 3 p.m. in SOU's room 118 in the science building.
Discovered in 2005 by Coffan, collaborative efforts of his colleagues in the Biology department – Southworth and Frank – verified its uniqueness. The research team has submitted a manuscript to a scientific journal called Mycologia.
"Discovering new habitat for complex organisms such as mushrooms is something you might expect in the Amazon, or along the deep oceanic trenches. But here they are, waiting for us in the Rogue River in Southern Oregon," Coffan said.
"It's pretty unbelievable to see a mushroom standing straight up under flowing water," Southworth added.
Source: "Scientists discover new mushroom species in the Rogue Valley," Siskiyou Daily, Thursday, January 24, 2008.
Loren Coleman – has written 5489 posts on this site.
Loren Coleman no longer writes for Cryptomundo. His archived posts remain here at Cryptomundo.