Posted by: Loren Coleman on December 26th, 2006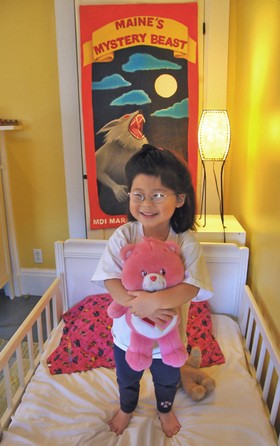 The Maine Mystery Beast banner remains safely in the Pine Tree State!
Rogier van Bakel, his wife Debbie, and their two delightful daughters (one shown above) came by over this Christmas weekend to drop off the unique Paul Szauter sideshow art, entitled the Maine's Mystery Beast banner.
Van Bakel is a well-traveled, well-spoken journalist whose work has appeared in the New York Times, Rolling Stone, Wired, Christian Science Monitor, Wall Street Journal, and other publications. We had a good talk about all matters of cryptozoology and Forteana, and I showed them some of the items around my in-house museum. Of course, various crypto-artifacts (including the 8 ft tall Bigfoot and other objects) are enroute back from Kansas City, and may be here by the spring, depending on weather.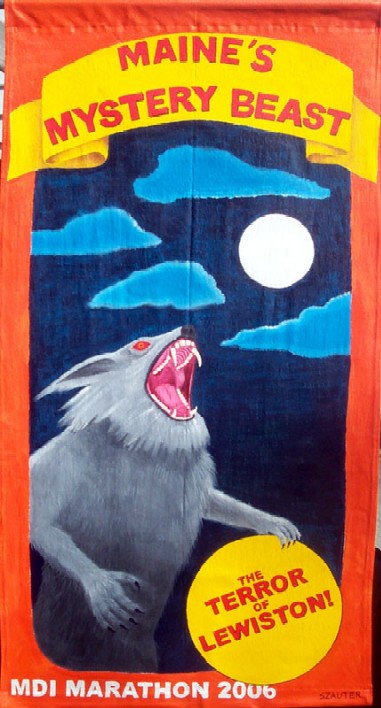 As you may recall, in a gift of proactivity, Rogier, through reading David Pescovitz's posting about it on Boing Boing learned that the banner was available in an auction a few miles from where he lives and he snatched it up for me. I deeply appreciate the triad of events that took place involving Szauter-Pescovitz-van Bakel to save this unique and rare popular culture-art-cryptozoo item for cryptozoology history.
If you are interested in the background, please read more in-depth at these links: Pescovitz's first Boing Boing blog on the banner, Rogier van Bakel's Nobody's Business blog on the auction, and the follow-up Boing Boing blog on the obtaining of the banner.
I can't say it any better than David Pescovitz's comment, after van Bakel's high bid:
What a generous, wonderful act-of-cryptozoological-kindness.
Many thanks to Paul, David and Rogier, once again.
Loren Coleman – has written 5489 posts on this site.
Loren Coleman no longer writes for Cryptomundo. His archived posts remain here at Cryptomundo.