Posted by: Loren Coleman on June 7th, 2010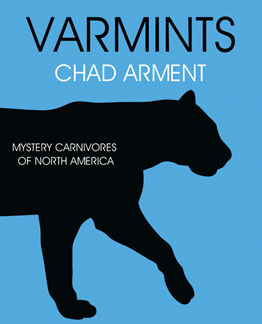 Chad Arment's latest survey of North American mystery animals is now available from Coachwhip Publications, via online booksellers.
Varmints: Mystery Carnivores of North America (ISBN 1-61646-019-9) is 682 pages and $29.95 US.
From Black Panthers to Giant Polar Bears…
There are a wide range of mystery carnivores reported in North America. Strange felines are most common (black, striped, spotted, maned, or brindle), but there are also reports of hyena-like animals, oversized polar bears, miniature grizzlies, huge white wolves, and more.
Varmints explores the diversity of sightings and folklore of unknown predators, and also examines what we know about the oddities (phenotypic and behavioural) of our known carnivore species.
The book includes a review of the anomalies and oddities of our known native carnivores, and a state-by-state (and province) survey of sighting reports of these cryptids.
There is a lot of material here for both the beginning cryptozoology enthusiast and the seasoned researcher. With reports spanning North America, there are plenty of leads for future investigation.
I shall post a review soon after I receive a review copy. I anticipate I shall like this book a great deal. This could be quite a remarkable book.
Loren Coleman – has written 5489 posts on this site.
Loren Coleman no longer writes for Cryptomundo. His archived posts remain here at Cryptomundo.