Posted by: Loren Coleman on July 17th, 2009
You know what they say. When it rains, it pours.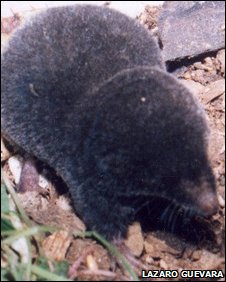 A tiny species has been rediscovered in the wild, more than a century after first being described, drawing attention to Veracruz, and the next day, more breaking news comes from that same corner of Mexico.
In 1894, a handful of specimens of the Nelson's small-eared shrew were collected in southern Mexico.
But the shrew was never seen again, and was considered by many experts to already be extinct.
That was until two researchers found three shrews in a small patch of forest, a find that is reported in the journal Mammalian Biology.
The Nelson's small-eared shrew (Cryptotis nelsoni) is named after the man who first discovered it.
In 1894, Edward Nelson and Edward Goldman collected 12 specimens some 4,800 feet up the slopes of the San Martín Tuxtla volcano in Veracruz, Mexico.
A year later, the creature was formally described for science, and the specimens were stored away in the drawers of the National Museum of Natural History in Washington DC, US.
Mammalogist Lazaro Guevara rediscovered the species that was seen alive 109 years ago.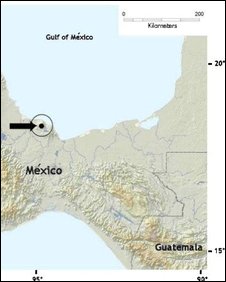 The shrew's last stronghold, in the forests of Veracruz, Mexico
For more, see, "'Extinct' tiny shrew rediscovered," Matt Walker, July 16, 2009.
Meanwhile, on July 17, 2009, more news from Veracruz, although it does not appear to involve the shrew or Mothman, yet.
Three people were missing Friday after four vehicles plunged into a river when a bridge collapsed in southeastern Mexico, an official told CNN en Español.
The occupants of the fourth vehicle swam to the riverbank, where they were rescued, said Ranulfo Marquez, secretary of civil protection in the state of Veracruz.
Officials did not give a cause for the bridge collapse. Three of the vehicles were tractor-trailers, the government-run Notimex news agency said.
The bridge spans the Tonala River outside the city of Agua Dulce in the state of Veracruz.
My thanks to Red Pill for the breaking heads up about the bridge collapse. Check back for updated info.
Loren Coleman – has written 5489 posts on this site.
Loren Coleman no longer writes for Cryptomundo. His archived posts remain here at Cryptomundo.