Posted by: Loren Coleman on May 13th, 2009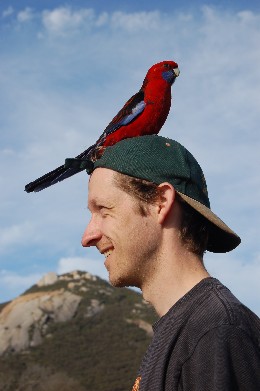 Chris Rehberg (above) at the website Where Light Meets Dark has confirmed that the new "MonsterQuest" episode "Isle of the Lost Tiger," will screen this week, and shall feature the WLMD Expedition in search of the Thylacine or Tasmanian Tiger (Thylacinus cynocephalus) carried out in 2009.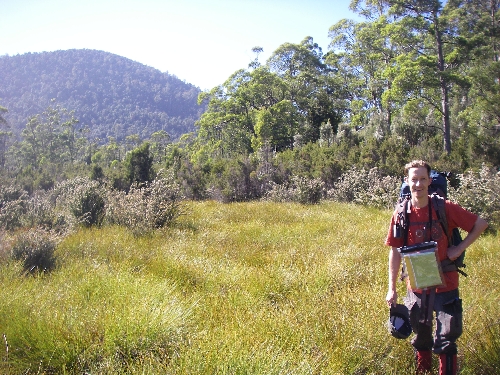 Screening dates in the US are Wednesday, May 13, 2009 (9 pm Eastern), Thursday, May 14 (1 am E) and Sunday May 24 (9 am E). Check your local listings for times in your area. Image: WLMD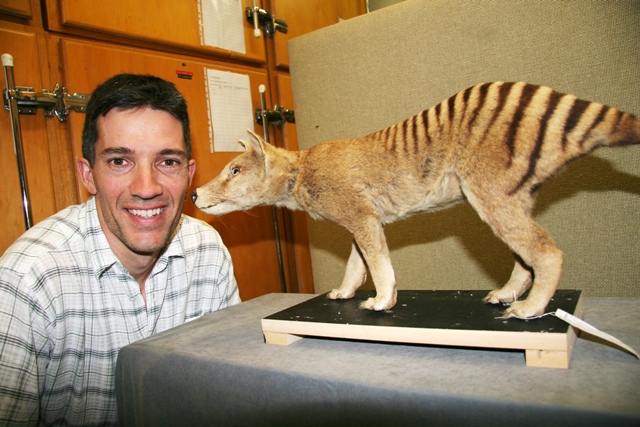 Dr. Jeremy Austin and a juvenile thylacine from the University of Adelaide.
The WLMD site gives a summary on the "Tasmanian Tiger Expedition2009."
The almost final results achieved are listed as the following:
Even though the final trek of the expedition has not yet been undertaken, a number of positive outcomes have been achieved already.

A previously unknown Tasmanian wedge-tailed eagle nest was discovered. There are believed to be only about 200 nesting sites remaining in Tasmania.

The elusive ground parrot was identified by its call. Coincidentally, I only recognised the call because of last year having examined evidence for its survival in Sydney where it has not been sighted in over 100 years.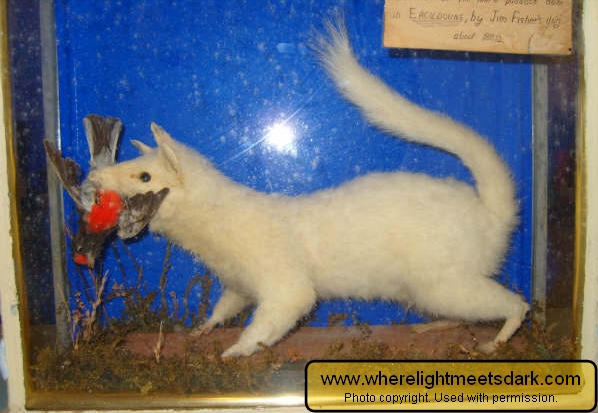 Above: Where Light Meets Dark recently published a photograph of an all-white Eastern quoll taxidermy, prepared in 1882. The quoll was captured in Ercildoune, Victoria and since publishing these photos the Australian Museum has confirmed that it too has an all-white specimen, also from the mainland. Photo used by permission.
The program will have the final discoveries and scientific analyses of those.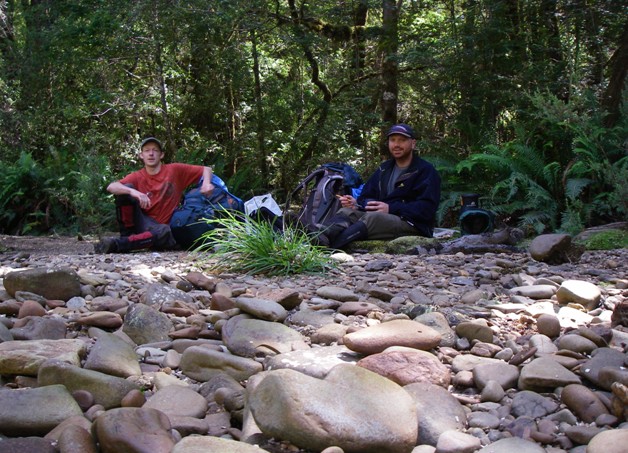 Here is the description of the episode, "Isle of the Lost Tiger":
A remote island off the coast of Australia was once home to a real monster with vampire-like tendencies. The Tasmanian Tiger, which was known for its massive jaws and sharp incisors, stalked livestock and terrified the human inhabitants of the island before a bounty brought about the Tiger's extinction almost eighty years ago. But if the eyewitness stories and scientific breakthroughs are correct, this creature may be on the verge of making a comeback. Across Tasmania there have been over 350 sightings of this monster, including reports from experienced biologists and outdoorsmen. Meanwhile, in an Australian laboratory, one scientist is using a preserved strand of DNA in an attempt to resurrect the tiger. Now, the MonsterQuest science and expedition teams will seek to find the ultimate proof that the Tasmanian Tiger could be alive and stalking the subtropical forests of this distant island.
Loren Coleman – has written 5489 posts on this site.
Loren Coleman no longer writes for Cryptomundo. His archived posts remain here at Cryptomundo.