Posted by: Loren Coleman on March 6th, 2008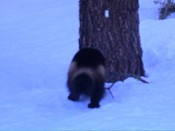 A wolverine has been captured on camera by an Oregon State student.
A wolverine has been spotted in the Sierra Nevada mountains for the first time since 1922.
According to CBS5:
A research project aimed at martens has turned up a bigger prize: a picture of a wolverine, an elusive animal scientists feared may have been driven out of the Sierra Nevada long ago by human activity.
The discovery could affect land-use decisions if the wolverine is declared an endangered species, a step the U.S. Fish and Wildlife Service is considering, although the animals typically live at high elevations where there is limited development.
A graduate student at Oregon State University, Katie Moriarty, got a picture of a wolverine recently on a motion-and-heat-detecting digital camera set up between Truckee and Sierraville, in the northern part of the mountain range.
Moriarty was trying to get pictures of martens, which are slender brown weasels, for a project she was doing with the U.S. Forest Service's Pacific Southwest Research Station.
She said that when she saw the wolverine in the picture early last Sunday morning it was a "complete shock. It was not something I would expect by any means."
News of the picture surprised scientists, who thought wolverines, if they still inhabited the Sierra, would be found only in the southern part of the range, not in the Lake Tahoe area.
For the rest of the article, please see here.
Thank you kittenz for the alert on this one.
Loren Coleman – has written 5489 posts on this site.
Loren Coleman no longer writes for Cryptomundo. His archived posts remain here at Cryptomundo.