Posted by: Loren Coleman on April 16th, 2006
Last week, in time for Easter thoughts of cuddly bunnies, images of armed hunters like this gentleman below, were broadcast around the world.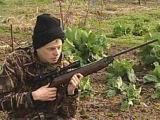 The hunt for the giant rabbit said to be destroying the gardens of Felton, UK, was on.
Under headlines like "Giant Rabbit Terrorizes Village" and "World Goes Crazy For Wor Rabbit," the media informed an anxious public that:
A "monster" rabbit has apparently been rampaging through vegetable patches in a small village in northern England, ripping up leeks, munching turnips and infuriating local gardeners.
"They call it the monster. It's very big — it's nearly the size of a dog," said Joan Smith, whose son Jeff owns one of the plots under attack.
"It's eating everything, all the vegetables," she told Reuters. "They are trying to shoot it. They go along hoping to catch it but I think it's too crafty."
And then accounts a few days later noted:
Jeff Smith, who [was] the first man to spot the giant – dubbed wor rabbit – has been at the centre of the whirlwind, receiving 51 phone calls on Thursday and 31 on Friday. He has been contacted by people in New Zealand, Russia and Australia all interested in the creature's fate….Meanwhile, the rabbit remains at large and has been continuing its night time raids."
However, reliable reports indicate this rabbit is not as large as the following example depicted in a rare archival postcard.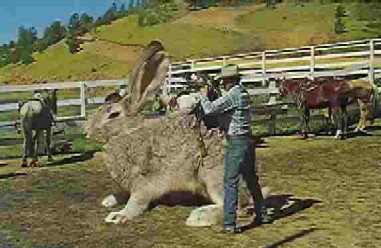 Read the rest of the giant rabbit story here and here.
Happy Easter, Passover, May Day/Labor Day, and Beltane/Bealtaine/Bealltainn to all.
Loren Coleman – has written 5489 posts on this site.
Loren Coleman no longer writes for Cryptomundo. His archived posts remain here at Cryptomundo.