Posted by: Loren Coleman on November 29th, 2009
November 29th marks the third anniversary of an intriguing honor given to the word, "cryptozoology."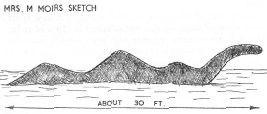 Stanley Newman is the editor of the Newsday Crossword and author/editor of nearly 100 books on crosswords, word games and trivia. On November 29, 2006, Newman picked his:
Word of the Week: "cryptozoology." It is the study of creatures whose existence is as yet unproved. Cryptozoological subjects include the Loch Ness monster and the Abominable Snowman.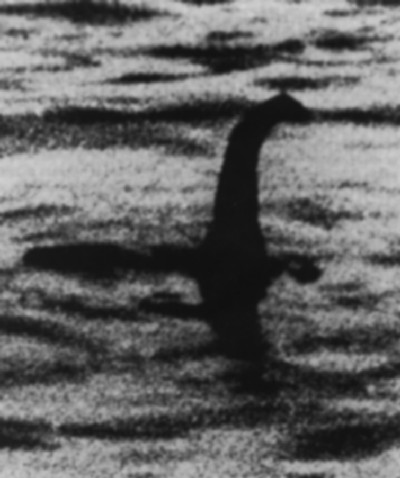 On that very same day, the UK's Daily Mail (yes, the paper responsible for the famous 1954 expedition in search of the Abominable Snowmen) published their survey of the "Scottish Most Famous Top Ten." Their choice for the #1 most famous Scot was Nessie or the Loch Ness Monster. Robert Burns (25 January 1759 – 21 July 1796) was #2, and Sean Connery (born 25 August 1930), #3.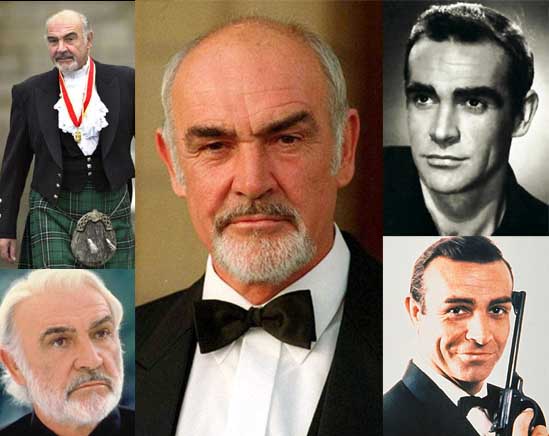 Happy November 29th.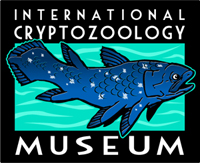 Join the past patrons and benefactors like the BCSCC, Matt Walker, David Pescovitz, John Hodgman, and Kevin Hemenway in supporting the International Cryptozoology Museum as it opens in downtown Portland, Maine.
Please click on the button below (not the one up top) to take you to PayPal to send in your museum donation.
*************************
Looking for somewhere to visit or shop during the holidays, or wanting to give the gift of Cryptozoology?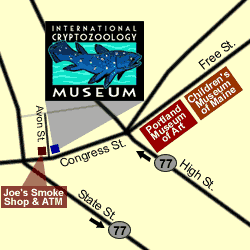 The International Cryptozoology Museum will be open on November 29, 2009. Sunday, Noon to 5 pm, and will be closed on Monday. Normal hours resume on Tuesday, 11-6, through Saturday. I will have extended hours on the Saturday before Christmas, December 19th, also.
For one month only, the following Holiday Specials are available. These can be purchased in person at the museum, via email or snail mail. These too are in response to individuals who wanted "gift certificates" to place in stockings and to give as gifts to friends and family. Individual gift certificates for one to several visits are now available in person, via email and through snail mail to allow the bearer (whomever holds the certificate of admission) into the museum. These will have NO expiration dates, and thus can serve as a "future promise" of a trip to Portland, Maine, when you give them as gifts.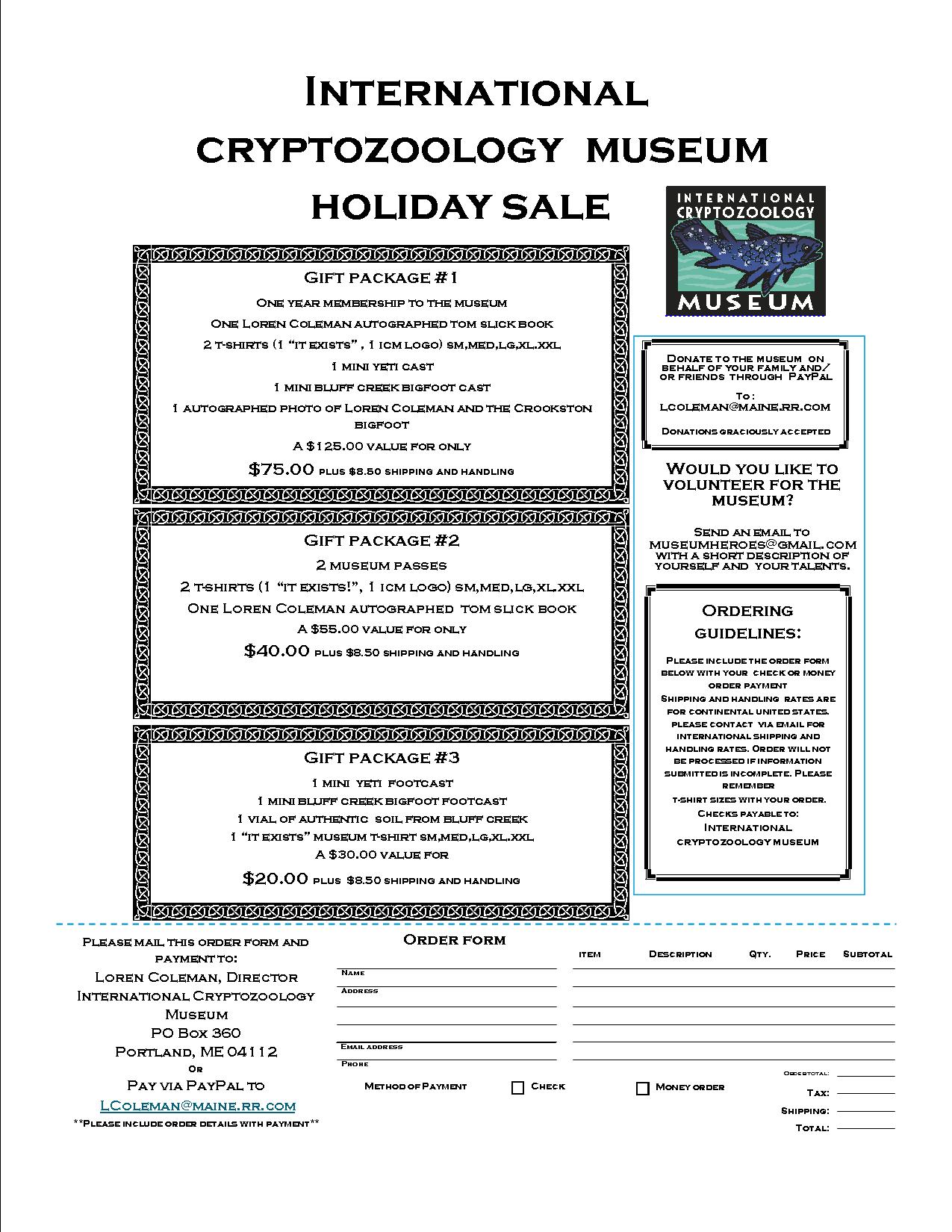 Click on the "Holiday Flyer" above to increase in size and then click again to make even more readable.
The donation button below may be used as a clickable direct link to PayPal (even if you are not a PayPal member) to send funds for your gift certificates and museum holiday purchases, as well as welcome contributions to the museum. Followup with an email to LColeman@maine.rr.com for order specifics, if you do not see a comment box.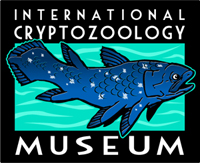 Thank you!
If you wish to send in your donation or orders in via snail mail, by way of an international money order or, for the USA, via a check (made out to "International Cryptozoology Museum") or money order, please use this snail mail address:
Loren Coleman, Director
International Cryptozoology Museum
PO Box 360
Portland, ME 04112
Thank you, and come visit the museum at 661 Congress Street, Portland, Maine 04101!! This educational/scientific/natural history museum is not a 501(c)3. At least, not yet.
Loren Coleman – has written 5489 posts on this site.
Loren Coleman no longer writes for Cryptomundo. His archived posts remain here at Cryptomundo.