Posted by: Loren Coleman on March 23rd, 2007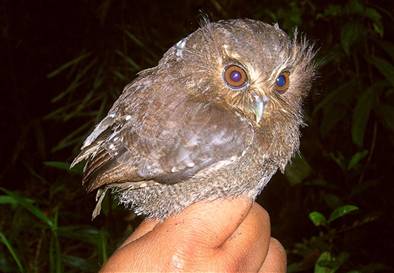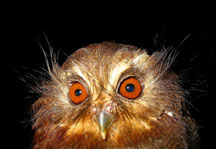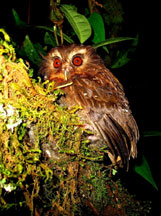 American Bird Conservancy is reporting the first live sighting a few weeks ago of what is "considered a holy grail of South American ornithology," Xenoglaux loweryi.
Commonly called the long-whiskered owlet – alone in its own genus Xenoglaux, meaning "strange owl" – it was first discovered in 1976. Researchers have caught a few specimens in nets after dark but had not seen it in nature, until was spotted in February in a northern Peruvian rainforest. It was encountered three times during the day and its calls recorded at night in the Alto Nieva's Peruvian reserve, known locally as the Area de Conservación Privada de Abra Patricia.
One of the world's smallest owls, Xenoglaux loweryi has long wispy feathers around its reddish-orange eyes (quite visible in the new photos, above).
Seeing the long-whiskered owlet is a huge thrill. Its population is estimated to be less than 1000 birds and possibly as few as 250. Due to the rapid destruction of its forest habitat and its tiny range, it is inferred that the species is in serious decline. Until recently, the owlet's key habitat was completely unprotected.David Geale, Association of Andean Ecosystems, member of the research team
Photos of the actual first live observed specimen, at top, credited to Asociación Ecosistemas Andinos/American Bird Conservancy.
Loren Coleman – has written 5489 posts on this site.
Loren Coleman no longer writes for Cryptomundo. His archived posts remain here at Cryptomundo.