Posted by: Loren Coleman on September 26th, 2010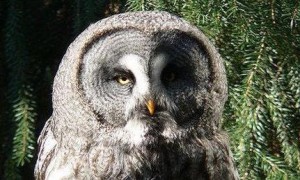 Using language that is less than precise can be very confusing. I've read the article below, by John Richardson, published at the "Care 2 Make A Difference" site a few times. At first, I couldn't tell if it was a new species or subspecies that was found, although the scientific name given would suggest a subspecies.
Elsewhere, it is rather clear that a subspecies, Strix nebulosa yosemitensis, Yosemite's great gray owl, has been found. Prior scientific research on great gray owls shows that only two other subspecies have been recognized: Strix nebulosa nebulosa in North America and Strix nebulosa lapponica in Europe and Asia.
The great gray owls in and around Yosemite National Park have been found to be a distinct subspecies. Researchers captured 29 of the large owls in the Sierra Nevada, (they have five-foot wingspans) and took blood samples. Captured owls were held bare-handed and the owls were hooded to reduce stress. Also blood samples from owls in Canada and southern Oregon were collected.

Analysis of blood samples using computers showed genetic codes differed enough the Sierra Nevada owls are distinct species. Scientists estimated the Sierra Nevada population has not interbred with the nothern populations for 26,700 years. Behavior differences such as nest site selection, migration patterns, and prey preferences were also observed.

Lead researchers on the project were John J. Keane of the U.S. Forest Service Pacific Southwest Research Station, and Holly B. Ernest and Joshua M. Hull of the Veterinary Genetics Laboratory at UC Davis. They suggested naming the Yosemite area great gray owls Strix nebulosa yosemitensis. The great gray owl species is named Strix nebulosa. In California great gray owls are listed by the state as an endangered species. There are just 150 of them within Yosemite National Park….
Image Credit: BS Thurnerhof
Loren Coleman – has written 5489 posts on this site.
Loren Coleman no longer writes for Cryptomundo. His archived posts remain here at Cryptomundo.