Posted by: Lyle Blackburn on January 30th, 2017
Coming February 1st… my new book "Beyond Boggy Creek: In Search of the Southern Sasquatch." More history, more legends, more evidence, more spine-tingling accounts from across the Deep South!
Here's a preview of the cover art: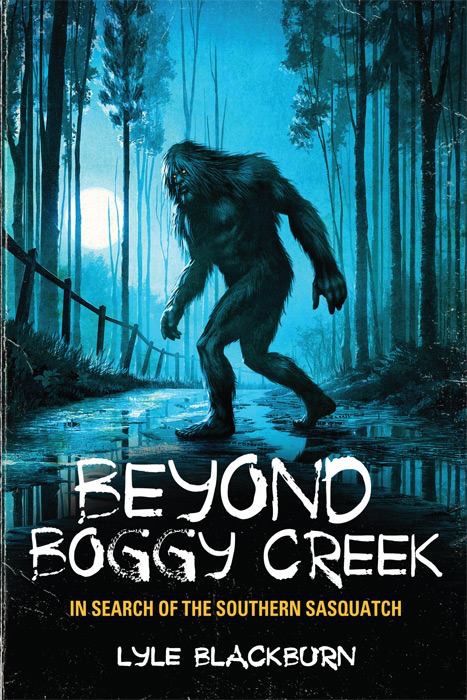 Stay tuned!
Available for pre-order now at Amazon.com
Countless reports from credible individuals suggest that something shocking may be stalking the woods of the southern United States–something massive, bipedal, and covered in hair. Tales of these Southern Sasquatch creatures–such as the one made famous by the 1972 horror movie The Legend of Boggy Creek–date back to the very origins of Deep South history and are reported even today.
While Boggy Creek may be the most famous case, the infamous waterway is only the tip of a much broader mystery, one that spills into the surrounding states and beyond. From Arkansas and Oklahoma down to Texas, over to Florida and all the southern states in between, chilling accounts and compelling evidence indicate that a breed of these mysterious, man-like creatures has been successfully hiding in the shadowy foothills, piney woods, and murky swamplands of these areas.
Join acclaimed author and outdoorsman Lyle Blackburn as he traverses woods and waterways, delves into dusty archives, and interviews a host of credible eyewitnesses in search of one of the South's most enduring mysteries… the Southern Sasquatch
Lyle Blackburn's research and writing on the subject of Bigfoot has been widely recognized as some of the best in the field of cryptozoology. His previous books, including The Beast of Boggy Creek and Lizard Man, offer a balanced view of the subject while delivering gripping accounts of this real-life mystery.
Blackburn is a frequent guest on radio programs such as Coast to Coast AM, and has appeared on television shows including Monsters and Mysteries in America and Finding Bigfoot. Blackburn and his research have also been featured in the award-winning documentary film Boggy Creek Monster.
"Blackburn shows himself not only to be a first-rate researcher but a formidable writer."– Fortean Times
Coming Soon: Beyond Boggy Creek
Beyond Boggy Creek

About Lyle Blackburn

Lyle Blackburn is an author, musician, and cryptid researcher from Texas. His investigative cryptozoology books, such as "The Beast of Boggy Creek," "Beyond Boggy Creek," and "Lizard Man," reflect his life-long fascination with legends and sighting reports of unknown creatures. During his research, Lyle has often explored the remote reaches of the southern U.S. in search of shadowy beasts said to inhabit the dense backwoods and swamplands of these areas.
Lyle has been heard on numerous radio programs, including Coast To Coast AM, and has appeared on television shows such as Monsters and Mysteries in America and Finding Bigfoot. Lyle is also a writer for the monthly horror magazine, Rue Morgue, and was recently featured in the documentary film, Boggy Creek Monster.
For more information, visit Lyle's website at: www.lyleblackburn.com