Posted by: Karl Shuker on August 5th, 2017
Whereas Arthurian legend had its Fisher King, rural Hungarian lore apparently once included an ostensibly real but presently-unidentified mystery beast known as the fisher pig. Also termed the swamp pig, this hitherto-obscure creature, seemingly undocumented in mainstream cryptozoological literature until now, was kindly brought to my attention by Facebook colleague and Hungarian crypto-investigator Orosz István via a series of FB communications during early July 2016, and which I've now documented in my recent mega-book Still In Search Of Prehistoric Survivors.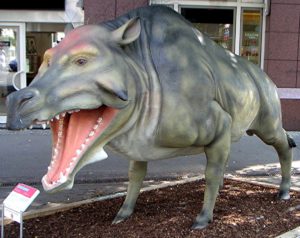 (c) Markus Bühler
His interesting account attracted a wide range of speculation on FB, including whether it may actually have constituted a late-surviving species of entelodont. These omnivorous pig-like ungulates (but constituting a separate taxonomic family from true pigs) existed in Eurasia and North America from the middle Eocene to the early Miocene (37 million to 16 million years ago), culminating in their last but largest representative Daeodon shoshonensis (aka Dinohyus hollandi). Distributed widely across the U.S.A., this monstrous so-called 'hell pig' or 'terminator pig' stood around 6 ft tall at the shoulder and sported a massive 3-ft-long skull.
Further details can be accessed here on my ShukerNature blog.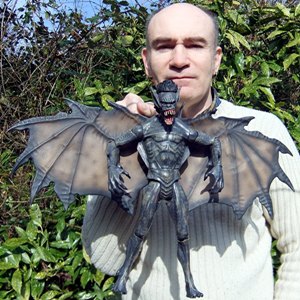 About Karl Shuker
My name is Dr Karl P.N. Shuker. I am a zoologist (BSc & PhD), media consultant, and the author of 25 books and hundreds of articles, specialising in cryptozoology and animal mythology. I have a BSc (Honours) degree in pure zoology from the University of Leeds (U.K.), and a PhD in zoology and comparative physiology from the University of Birmingham (U.K.). I have acted jointly as consultant and major contributor to three multi-author volumes on cryptozoology and other mysterious phenomena. I am the Life Sciences Consultant to The Guinness Book of Records/Guinness World Records (Guinness: London, 1997-present day), and was consultant to Monsters (Lorenz Books: London, 2001), as well as a contributor to Mysteries of the Deep (Llewellyn: St Paul, 1998), Guinness Amazing Future (Guinness: London, 1999), The Earth (Channel 4 Books: London, 2000), and Chambers Dictionary of the Unexplained (Chambers: London, 2007). I appear regularly on television & radio, was a consultant for the Discovery TV series Into the Unknown, and a question setter for the BBC's quiz show Mastermind. I am a Scientific Fellow of the Zoological Society of London, a Fellow of the Royal Entomological Society, a Member of the Society of Authors, and the Cryptozoology Consultant for the Centre for Fortean Zoology (CFZ). I have written articles for numerous publications, including Fortean Times, The X Factor, Paranormal Magazine, FATE, Strange Magazine, Prediction, Beyond, Uri Geller's Encounters, Phenomena, Alien Encounters, Wild About Animals, All About Cats, All About Dogs, Cat World, etc. In 2005, I was honoured by the naming of a new species of loriciferan invertebrate after me - Pliciloricus shukeri.