Posted by: Karl Shuker on July 14th, 2015
Mystery beasts come in all sizes and shapes, but in the case of globsters they are most famous not just for their great size but also for their conspicuous lack of any well-defined shape. Aptly named by American cryptozoologist Ivan T. Sanderson in the early 1960s, globsters (also dubbed blobsters or blobs) are generally huge, amorphous masses of decomposing tissue, usually rubbery and covered in fibrous 'hair', lacking any recognisable body parts or skeleton, which are regularly washed ashore on beaches around the world.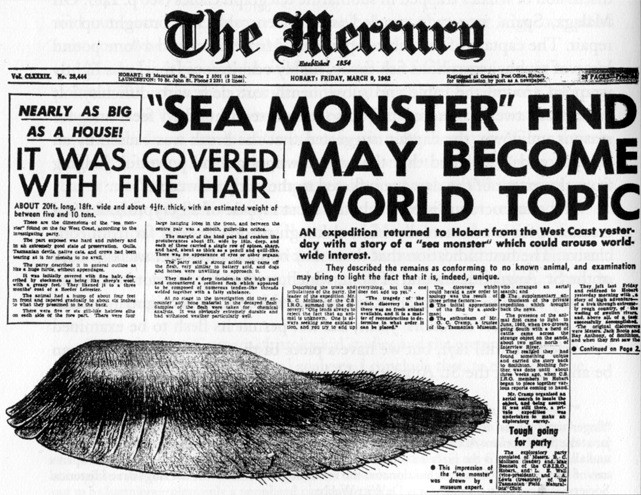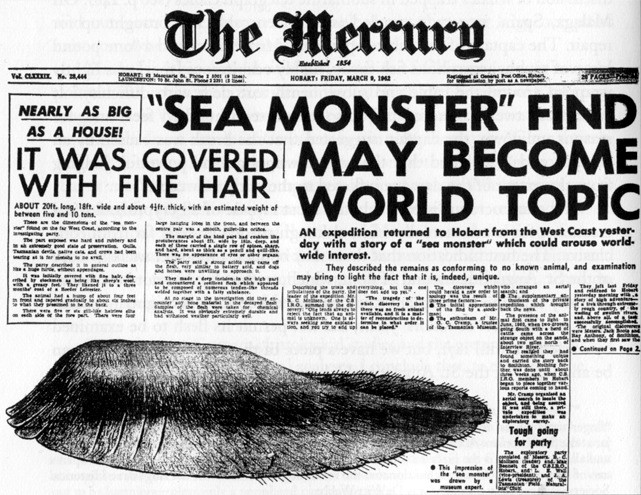 (c) Hobart Mercury
But what exactly ARE globsters? The investigation and ultimate exposure of these extraordinary objects has been a long and tortuous journey, encompassing along the way such disparate entities as giant octopuses, deepsea jellyfishes, sporadic sperm whales, and even the once-enigmatic Trunko…
Further details can be obtained here and here in a major two-part article exclusive to ShukerNature.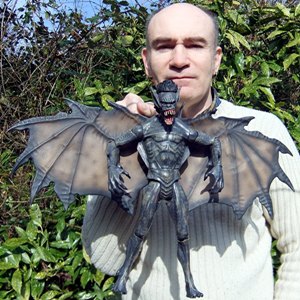 About Karl Shuker
My name is Dr Karl P.N. Shuker. I am a zoologist (BSc & PhD), media consultant, and the author of 25 books and hundreds of articles, specialising in cryptozoology and animal mythology. I have a BSc (Honours) degree in pure zoology from the University of Leeds (U.K.), and a PhD in zoology and comparative physiology from the University of Birmingham (U.K.). I have acted jointly as consultant and major contributor to three multi-author volumes on cryptozoology and other mysterious phenomena. I am the Life Sciences Consultant to The Guinness Book of Records/Guinness World Records (Guinness: London, 1997-present day), and was consultant to Monsters (Lorenz Books: London, 2001), as well as a contributor to Mysteries of the Deep (Llewellyn: St Paul, 1998), Guinness Amazing Future (Guinness: London, 1999), The Earth (Channel 4 Books: London, 2000), and Chambers Dictionary of the Unexplained (Chambers: London, 2007). I appear regularly on television & radio, was a consultant for the Discovery TV series Into the Unknown, and a question setter for the BBC's quiz show Mastermind. I am a Scientific Fellow of the Zoological Society of London, a Fellow of the Royal Entomological Society, a Member of the Society of Authors, and the Cryptozoology Consultant for the Centre for Fortean Zoology (CFZ). I have written articles for numerous publications, including Fortean Times, The X Factor, Paranormal Magazine, FATE, Strange Magazine, Prediction, Beyond, Uri Geller's Encounters, Phenomena, Alien Encounters, Wild About Animals, All About Cats, All About Dogs, Cat World, etc. In 2005, I was honoured by the naming of a new species of loriciferan invertebrate after me - Pliciloricus shukeri.