Posted by: Seth Breedlove on October 20th, 2017
New movie highlighting strange happenings in Pennsylvania mountains launches on DVD and Amazon today.
Aliens. Hair-covered beasts. Mysterious lights in the forest. Giant birds. What do they all have in common? A new documentary film makes the case that a mountain range in Southwestern Pennsylvania is their home. The film, titled Invasion on Chestnut Ridge, arrives on DVD and streaming on Amazon today and will screen at the Canton Palace Theatre in Canton, OH on October 28th! The terrifying "invasion" comes in the form of various phenomena that have been seen by ordinary people living in the area since the 1800's.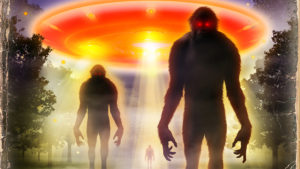 Just in time for Halloween, learn all about the multitude of bizarre events that have occurred in the area with special attention being paid to the following: A mysterious UFO crash. Unusually large, possibly prehistoric bird attacks. Strange lights in the forest that seem to stalk those that witness them. Horrifying alien encounters, and of course, no scary story is complete without a cadre of tales centered around huge, upright walking hairy critters.
The story is told mostly through eyewitness accounts and through interviews with those who investigate bizarre occurrences along the ridge. It features spooky reenactments and a slew of unsettling animated sequences (by artist, Chris Scalf) along with a number of unnerving illustrations by artists Matt Harris and Brandon Scalf. A new trailer was just released spotlighting just a few of the dramatic moments captured in the film.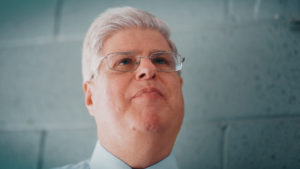 Invasion on Chestnut Ridge is the fifth film in the award-winning Small Town Monsters series of paranormal documentaries, following the critical and commercial hit, The Mothman of Point Pleasant. "Mothman" and "Invasion" were both funded through a Kickstarter campaign last year which raised over twenty four thousand dollars. Invasion was filmed in Pennsylvania over the summer and features interviews with local investigators and eyewitnesses. It is produced and directed by Seth Breedlove and written and narrated by Mark Matzke with cinematography by Zac Palmisano and an original score by the award-winning, Brandon Dalo. The film's poster is created by renowned horror artist, Sam Shearon.
Next year Small Town Monsters turns their attention to Flatwoods, West Virginia with their sixth film, The Flatwoods Monster. It will be followed in June by Aleksandar Petakov's On the Trail of… Champ. A Kickstarter campaign to fund the production of the films will launch on January 26th. A handful of STM films, including Invasion on Chestnut Ridge, will screen at Minerva Monster Day, a yearly event held in Minerva, OH. This year's event will take place June 16th and features author and frequent Small Town Monsters-collaborator, Lyle Blackburn, and author Loren Coleman.
STM will be hosting an online "launch party" at 7:00 pm (EST) tonight on their Facebook page which will include a live commentary and a Q&A with members of the crew. Head to their Facebook page to take part in the event.
Learn more about Small Town Monsters.

About Seth Breedlove
Seth Breedlove is a freelance investigative journalist, filmmaker, and radio show host. He has contributed content to numerous websites on a variety of topics. He served as a columnist for the Massillon Independent, helming a weekly column titled "Slice of Life" that ran on the front page of the paper. In addition to his column he has covered news stories and daily assingnments for the Medina Gazette. In 2014 he started SasWhat: a Podcast About Bigfoot with co-host Mark Matzke where each week they discuss the subject as a whole and interview various personalities from the field. Seth has also researched and examined historical Bigfoot reports from across the country, compiling an extensive database of newspaper articles dating back to the early 1800's.