Posted by: Nick Redfern on July 18th, 2013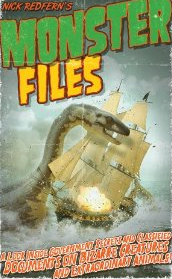 "Just the other night, while I was promoting my new Monster Files book, the host of the relevant radio show asked me why, if lake monsters are real, don't we ever find hard and undeniable evidence of their existence? He was, of course, talking about a living specimen or a corpse. Okay, it's a fair question, and many might take the view that the lack of a creature – alive or dead – is suggestive of the whole thing being nothing more than folklore, mythology, legend, hoaxing and misidentification. Right? Wrong.
"There are many reasons why, even in lakes close to highly populated areas, we might never find hard evidence of the existence of such creatures. Let us focus primarily on the world's most famous lake monsters of all, the Nessies of Scotland's Loch Ness."
The above-quote is taken from my latest Mysterious Universe article, which you can find right here…

About Nick Redfern
Punk music fan, Tennents Super and Carlsberg Special Brew beer fan, horror film fan, chocolate fan, like to wear black clothes, like to stay up late. Work as a writer.