Posted by: Loren Coleman on September 24th, 2009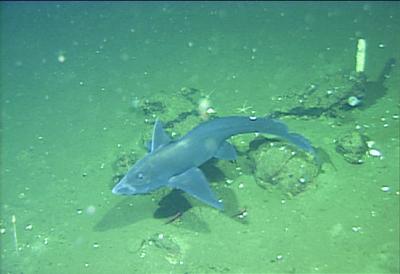 The new species, the Eastern Pacific black ghostshark (Hydrolagus melanophasma), was described in the September issue of the international journal Zootaxa by a research team including Academy Research Associates David Ebert and Douglas J. Long. Additional co-authors included Kelsey James, a graduate student at Moss Landing Marine Laboratories, and Dominique Didier from Millersville University in Pennsylvania. This is the first new species of cartilaginous fish to be described from California waters since 1947.
This new species belongs to the genus Hydrolagus, Latin for "water rabbit" because of its grinding tooth plates reminiscent of a rabbit's incisor teeth. This new species was originally collected as early as the mid 1960s, but went unnamed until this year because its taxonomic relationships were unclear. A large blackish-purple form, Hydrolagus melanophasma (melanophasma is Latin for "black ghost"), is found in deep water from the coast of Southern California, along the western coast of Baja California, and into the Sea of Cortez (Gulf of California). This species is known from a total of nine preserved museum specimens, and from video footage taken of it alive by a deep-water submersible in the Sea of Cortez.
Chimaeras, also called ratfish, rabbitfish, and ghostsharks, are perhaps the oldest and most enigmatic groups of fishes alive today.
Source: California Academy of Sciences (2009, September 21). Ancient And Bizarre Fish Discovered: New Species Of Ghostshark From California And Baja California. ScienceDaily.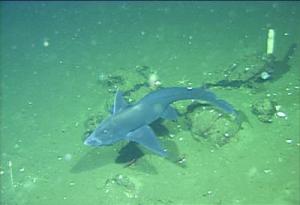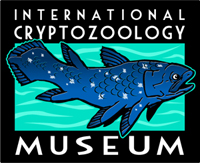 Support the new, physical location of the International Cryptozoology Museum in downtown Portland, Maine. Help us bring this great adventure to you into the near future and into the foreseeable tomorrows.
Please click on the button below (not the one up top) to take you to PayPal to send in your museum donation.
If you wish to send in your donation of funding or cryptozoological artifacts via the mails, outside the country by way of an international money order or, for the USA, via a check (paid to the "International Cryptozoology Museum") or money order, please use this snail mail address:
Loren Coleman
International Cryptozoology Museum
PO Box 360
Portland, ME 04112
USA
Thank you, and come visit the museum at 661 Congress Street, Portland, Maine 04101, beginning November 1, 2009!!
Loren Coleman – has written 5489 posts on this site.
Loren Coleman no longer writes for Cryptomundo. His archived posts remain here at Cryptomundo.