Posted by: Guy Edwards on January 17th, 2013


The British Bigfoot posing in front of the Union Jack
"I have seen the beast!" — Jon Downes after a 3 day expedition searching for the British Bigfoot
Today, January 15th, in 2003, Jon Downes ventured out to Britain's Bolam Lake to investigate an encounter reported by three fishermen earlier in the month. Mr. Downes with five other members of the Twilight Worlds Paranormal Research Group left for the area near the lake and three of the members saw the British Bigfoot.Nick Redfern recounts the Jon Downes experience as well as the fishermen's encounter that proceeded it in an article for FATE magazine in 2005. You can read the excerpt below:
"In an article published in the North of England Evening Chronicle of January 6, 2003, it was stated: "A yeti with glowing eyes is living in a North East park, according to a fisherman's tale. A report on a website dedicated to hunters of the Yeti and his Big Foot buddy carries details of three encounters between the half-ape creature and three pals.

"They tell how they spend hours in Bolam Lake near Belsay, Northumberland, pike fishing late at night. But their tranquility was disturbed on one fishing trip by a catch they did not expect to make. The anonymous writer tells how he was between his friends Neil and Nathan walking on a wooden path back to the car park, just after midnight. "About halfway along the path I turned around to talk to Nathan. He was further back along the path, picking his bag up off the track. Behind him, standing in the middle of the track, was a dark figure. The light was moonlight and shining through the trees.

"The others did not see it at first until he pointed it out to them. He said it was "a dark figure, looked about eight feet tall, heavy built, its eyes, or what seemed to be its eyes, glowed in the darkness. We ran, top speed, all the way back to the car."

Interestingly, the newspaper revealed that during the previous March, a similar creature had been seen on a hill close to the remains of an Iron Age settlement near the park's boundary. On January 15, 2003, Jon Downes headed to Bolam to conduct a firsthand investigation of the sightings. Four days later, he telephoned me: "I have seen the beast, " he said quietly and with a degree of fear and trepidation in his voice. It transpired that Jon and five members of a local research group, the Twilight Worlds Paranormal Research Group, were on watch at Bolam Park the previous evening as darkness began to fall. Suddenly "something " appeared that defied all explanation, said Jon. He and three of the group only caught a glimpse of it for the briefest of moments, but the fast-moving creature was around eight feet tall, three feet wide, and dark in color.

Although lost in the failing light and the trees, Jon was able to determine that the "creature " seemed to be without real form and, incredibly, one-dimensional in appearance
You can read the Nick Redfern's full article about other British Bigfoot encounters at Bigfoot Encounters.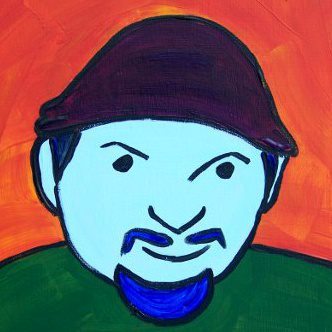 Guy Edwards – has written 185 posts on this site.
Psychology reduces to biology, all biology to chemistry, chemistry to physics, and finally physics to mathematical logic.