September 19, 2014
Update: Yakima Bigfoot Round-Up 2014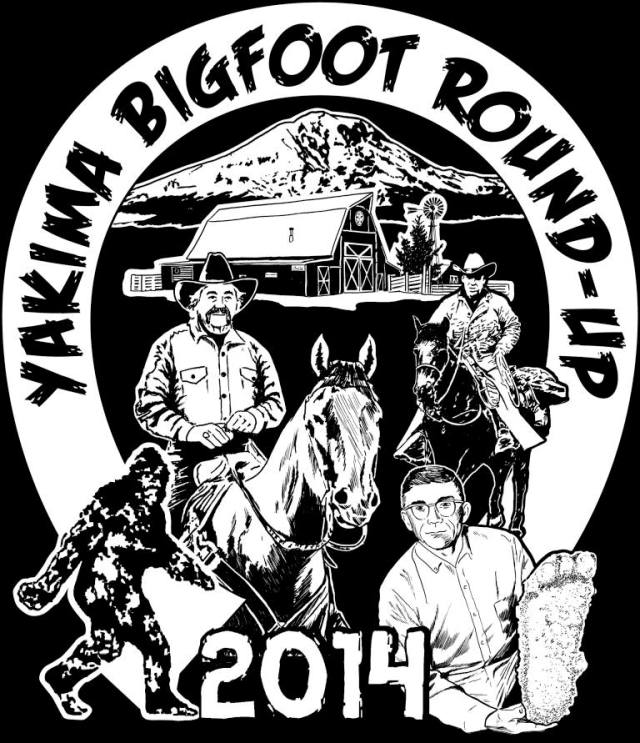 Our new Round-Up logo was designed by Wayne Barnes of Ohio. Thanks a ton Wayne. You rock
The Yakima Bigfoot Round-up 2014 presented by the Friends of Bob Gimlin and the Yakima Valley Museum begins just three weeks from today and the excitement is building to fever pitch now!
Ticket sales are going well. Thank you purchasing if you are coming. A few tickets left so get them fast!
This event, like many conferences, needs sponsorship to cover a host of expenses in bringing in speakers of the calibre of Jeff Meldrum, John Bindernagel, Bill Munns and Bob Pyle.
We invite any potential sponsors to contact Tom Yamarone at tyamarone@pacbell.net and let him know how you can financially support this tremendous gathering of the best in Bigfoot.
If you would like to donate items for the auction, please get in touch with Marc DeWerth by email at madbigfoot@aol.com or on Facebook messenger. Marc is our persuasive auctioneer and also the genius behind the Ohio Bigfoot Conference. We are grateful that Marc has volunteered his services.
If you have any bigfoot related items you want to find a nice new home for let Marc know and he'll make arrangements with you on how to get them to us.
We are very thankful to those who have already sponsored and donated.
Okay one and all, Tom Yamarone has set up the official page of Yakima Bigfoot Round-up 2014.
This is where you will find all the info you are going to need and to get updates on everything.
So let us know if you'd like to be part of this.
Tom, Bob and I thank you.
And thanks to those sent good wishes during my illness the last few days. I feel better today and am hoping I am on the road back to being my fruitbat self. I think watching Monty Python episodes in bed when I was laid low also helped!
Go here for additional information including the event schedule.

About John Kirk
One of the founders of the BCSCC, John Kirk has enjoyed a varied and exciting career path. Both a print and broadcast journalist, John Kirk has in recent years been at the forefront of much of the BCSCC's expeditions, investigations and publishing. John has been particularly interested in the phenomenon of unknown aquatic cryptids around the world and is the author of In the Domain of the Lake Monsters (Key Porter Books, 1998). In addition to his interest in freshwater cryptids, John has been keenly interested in investigating the possible existence of sasquatch and other bipedal hominids of the world, and in particular, the Yeren of China. John is also chairman of the Crypto Safari organization, which specializes in sending teams of investigators to remote parts of the world to search for animals as yet unidentified by science. John travelled with a Crypto Safari team to Cameroon and northern Republic of Congo to interview witnesses among the Baka pygmies and Bantu bushmen who have sighted a large unknown animal that bears more than a superficial resemblance to a dinosaur. Since 1996, John Kirk has been editor and publisher of the BCSCC Quarterly which is the flagship publication of the BCSCC. In demand at conferences, seminars, lectures and on television and radio programs, John has spoken all over North America and has appeared in programs on NBC, ABC, CBS, PBS, TLC, Discovery, CBC, CTV and the BBC. In his personal life John spends much time studying the histories of Scottish Clans and is himself the president of the Clan Kirk Society. John is also an avid soccer enthusiast and player.
Filed under Bigfoot, Conferences, Cryptid Universe, Cryptozoologists, Cryptozoology, Cryptozoology Conferences, Evidence, Eyewitness Accounts, Finding Bigfoot, Folklore, Footprint Evidence, Museums, Pop Culture, Sasquatch