Posted by: Craig Woolheater on September 5th, 2014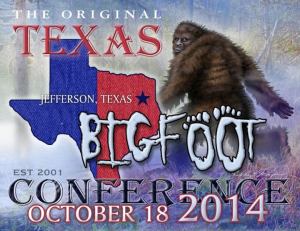 The Original Texas Bigfoot Conference returns to Jefferson, TX. Established in 2001 as the original annual Bigfoot Conference in Texas by the Texas Bigfoot Research Center. Craig Woolheater, Monica Rawlins and Gino Napoli bring back the event on Texas Bigfoot Weekend as proclaimed on October 15, 2005 by the mayor of the City of Jefferson, TX. The third weekend in Jefferson is proclaimed as Texas Bigfoot Weekend.
The event takes place on October 18, 2014.
---