Posted by: Craig Woolheater on February 9th, 2014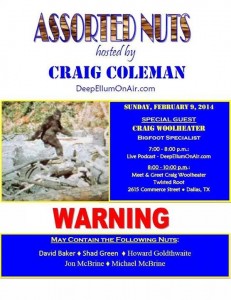 Watch Craig Woolheater on Assorted Nuts on Deepellumonair.com tonight, Feb 9th at 7pm. Come and meet him at Twisted Root Burgers on Commerce in Dallas at 8pm.
You can stream the show live with other listeners at Twisted Root Burgers and then join us for the meet n' greet dinner and Bigfoot show n' tell!
---