Posted by: Craig Woolheater on July 3rd, 2015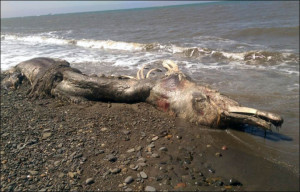 The remains of an unidentified sea animal with fur on its tail have been washed ashore in the Far East. Found near the airport at Shakhtersk, on Sakhalin Island, its appearance is unlike anything ever found in Russia.
Judging from the remains the creature was giant and about twice the length of a human, and it had a huge nose like a bird's beak.
---