Posted by: Craig Woolheater on October 7th, 2010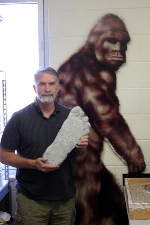 Interesting article from the ISU Bengal, the independent voice of the ISU community, about Dr. Jeff Meldrum's Sasquatch Research.
I was in last weekend in Honobia, OK for the Honobia Bigfoot Conference.
One of many discussions last weekend had to do with the backlash on the ISU campus from Martin Hackworth, a senior lecturer in the physics department, who has opposed Meldrum's Bigfoot Research in the past.
It seems that things have changed on campus due to faculty and staff replacements and Jeff is no longer facing the opposition that he endured in the past.
---