Posted by: Lyle Blackburn on July 29th, 2014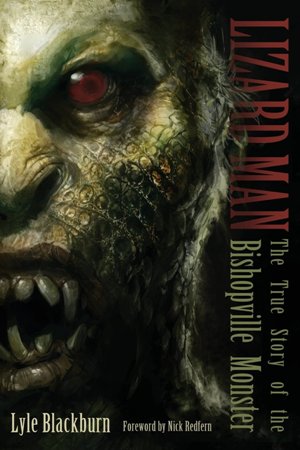 A few drawings and photos from my Lizard Man book appear in "The Reptilians" episode of Ancient Aliens on the History channel. It aired on July 25, but will repeat.
Premiere Date:July 25, 2014 – 09:00-10:00PM ET
The Reptilian alien is a fixture of science-fiction, from H.P. Lovecraft's tales of Valusians to the Cardassians in Star Trek, to the Visitors of the television series V. But could ancient myths about reptilian creatures provide evidence that they are more than just a pop-culture creation? Legends of serpent beings can be found on every continent. The Bible, the Quran and the ancient texts known as the Nag Hammadi codices all describe reptilian entities interacting with humans. In Central and South America people worship the feathered serpent god called Kulkukan or Quetzalcoatl. In India, the Nagas are half-human half-reptile gods who live underground in a place called Patala. And in China and Japan, many emperors claim to be the descendants of dragons. Could these stories represent real Reptilian beings that people all over the world actually encountered in the ancient past?
Upcoming Airings:
August 01, 2014 – 08:00-09:00PM ET
August 02, 2014 – 12:00-01:00AM ET
August 04, 2014 – 10:00-11:00PM ET
August 05, 2014 – 02:00-03:00AM ET

About Lyle Blackburn

Lyle Blackburn is an author, musician, and cryptid researcher from Texas. His investigative cryptozoology books, such as "The Beast of Boggy Creek," "Beyond Boggy Creek," and "Lizard Man," reflect his life-long fascination with legends and sighting reports of unknown creatures. During his research, Lyle has often explored the remote reaches of the southern U.S. in search of shadowy beasts said to inhabit the dense backwoods and swamplands of these areas.
Lyle has been heard on numerous radio programs, including Coast To Coast AM, and has appeared on television shows such as Monsters and Mysteries in America and Finding Bigfoot. Lyle is also a writer for the monthly horror magazine, Rue Morgue, and was recently featured in the documentary film, Boggy Creek Monster.
For more information, visit Lyle's website at: www.lyleblackburn.com