September 12, 2014
Bownessie Captured on Photo?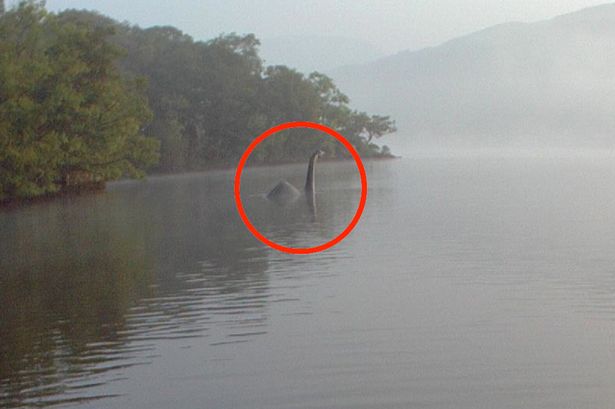 Camera shy: Is this a monster of the deep?
Is this the Loch Ness monster – spotted 150 miles from its traditional home?
Photographer Ellie Williams captured this amazing image of what she believes to be a creature from the deep while taking snaps in the Lake District.
The 24-year-old had set up her camera tripod to automatically take photos throughout the day at Windermere.
It was only when she reviewed the images, which were supposed to be of the colours of the changing seasons, that she came across the shocking snap.
Source: Is this the Loch Ness monster? Creature photographed in lake – 150 miles from home
I was actually at Windermere back in August, 2006 when the sightings were first reported. In fact I was staying just above the village of Bowness from where Steve Burnyip took his photos. Whatever was in his pictures looked nothing like the object above.
Is the Daily Mirror photo of Bownessie? To coin a lie from Monty Python: Not bloody likely….
Looks like photoshop to me.
Haven't been back to Windermere since then, but if I had to guess what Bownessie might be, I'd say a Wels catfish based on a number of sighting reports I've read, but I am always open to being shown REAL evidence to the contrary.
See also:
Bownessie is BACK!
BBC Investigates Bownessie Lake Creature
Bownessie Photo Explained?
2007: Bownessie Monster
Discovery News Highlights Bownessie Story
Is Bownessie Back?
Brooding About Bownessie
Is this Bownessie?
England's Nessie

About John Kirk
One of the founders of the BCSCC, John Kirk has enjoyed a varied and exciting career path. Both a print and broadcast journalist, John Kirk has in recent years been at the forefront of much of the BCSCC's expeditions, investigations and publishing. John has been particularly interested in the phenomenon of unknown aquatic cryptids around the world and is the author of In the Domain of the Lake Monsters (Key Porter Books, 1998). In addition to his interest in freshwater cryptids, John has been keenly interested in investigating the possible existence of sasquatch and other bipedal hominids of the world, and in particular, the Yeren of China. John is also chairman of the Crypto Safari organization, which specializes in sending teams of investigators to remote parts of the world to search for animals as yet unidentified by science. John travelled with a Crypto Safari team to Cameroon and northern Republic of Congo to interview witnesses among the Baka pygmies and Bantu bushmen who have sighted a large unknown animal that bears more than a superficial resemblance to a dinosaur. Since 1996, John Kirk has been editor and publisher of the BCSCC Quarterly which is the flagship publication of the BCSCC. In demand at conferences, seminars, lectures and on television and radio programs, John has spoken all over North America and has appeared in programs on NBC, ABC, CBS, PBS, TLC, Discovery, CBC, CTV and the BBC. In his personal life John spends much time studying the histories of Scottish Clans and is himself the president of the Clan Kirk Society. John is also an avid soccer enthusiast and player.
Filed under Cryptid Universe, Cryptozoology, Evidence, Lake Monsters, Loch Ness Monster, Photos