Posted by: Karl Shuker on April 15th, 2014
Some zoological photographs are so bizarre that long after they first hit the news headlines, they still continue to circulate online, like restless ghosts doomed to wander forever down the highways and byways of the worldwide web, resisting all attempts to expose them as hoaxes or explain them as grotesque yet nonetheless natural phenomena. One such image that seems to fall into the latter category is the example that opens this present ShukerNature blog post – namely, a supposed one-legged, claw-footed snake from China.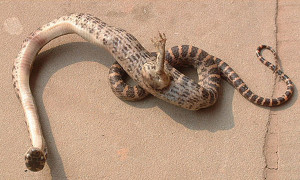 (c) CEN/Europics
This anomalous serpent made its media debut as far back as mid-September 2009, since when it has been the online focus of various less than credible claims and all manner of decidedly credulous comments, but no rigorous, in-depth assessment. Consequently, I felt that it was high time that this sorry situation was rectified, so here is my own personal appraisal of this very curious case.
Further details can be obtained here on my ShukerNature blog post.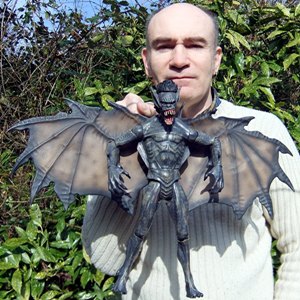 About Karl Shuker
My name is Dr Karl P.N. Shuker. I am a zoologist (BSc & PhD), media consultant, and the author of 25 books and hundreds of articles, specialising in cryptozoology and animal mythology. I have a BSc (Honours) degree in pure zoology from the University of Leeds (U.K.), and a PhD in zoology and comparative physiology from the University of Birmingham (U.K.). I have acted jointly as consultant and major contributor to three multi-author volumes on cryptozoology and other mysterious phenomena. I am the Life Sciences Consultant to The Guinness Book of Records/Guinness World Records (Guinness: London, 1997-present day), and was consultant to Monsters (Lorenz Books: London, 2001), as well as a contributor to Mysteries of the Deep (Llewellyn: St Paul, 1998), Guinness Amazing Future (Guinness: London, 1999), The Earth (Channel 4 Books: London, 2000), and Chambers Dictionary of the Unexplained (Chambers: London, 2007). I appear regularly on television & radio, was a consultant for the Discovery TV series Into the Unknown, and a question setter for the BBC's quiz show Mastermind. I am a Scientific Fellow of the Zoological Society of London, a Fellow of the Royal Entomological Society, a Member of the Society of Authors, and the Cryptozoology Consultant for the Centre for Fortean Zoology (CFZ). I have written articles for numerous publications, including Fortean Times, The X Factor, Paranormal Magazine, FATE, Strange Magazine, Prediction, Beyond, Uri Geller's Encounters, Phenomena, Alien Encounters, Wild About Animals, All About Cats, All About Dogs, Cat World, etc. In 2005, I was honoured by the naming of a new species of loriciferan invertebrate after me - Pliciloricus shukeri.