Posted by: Nick Redfern on January 16th, 2013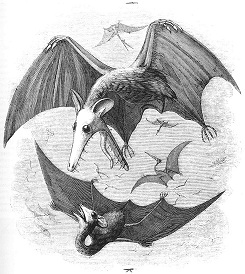 Stan Gordon – author of Silent Invasion – tells us in a new post…
"On the afternoon of January 1, 2013, two women and a young boy decided to take a walk through a wooded area near South Greensburg to enjoy the beautiful scenery. It was about 32 degrees and clear visibility in the area. The area had a cover of snow from a previous storm. Around 3 PM the three people advanced into the woods and were looking at a tree that still had a lot of leaves on it.
"When they were about 20-25 feet from the tree, the two women saw something that startled them. The boy was apparently looking elsewhere. They both at the same time stated, 'Did you see the size of that bird?' What they observed was what appeared to be a bird unfolding its huge wings. A witness described the wingspan as being approximately 6-7 feet wide, and described how the creature unfolded its wings, and almost rolled them out, flapped them once and folded them back up as it moved along the ground behind the tree."
Something strange, or something down to earth? Both possibilities are discussed in the complete post, which you can find here.

About Nick Redfern
Punk music fan, Tennents Super and Carlsberg Special Brew beer fan, horror film fan, chocolate fan, like to wear black clothes, like to stay up late. Work as a writer.