May 3, 2012
A Mothman 50th (Kind Of…)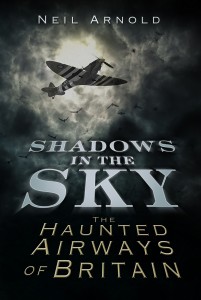 Okay, I know it's still a year away, but 2013 marks the 50th anniversary of a case that, in many respects, has distinct Mothman-type qualities to it. But, here's the interesting thing: it occurred on the other side of the world in England.
So, why am I mentioning this now?
Well, I'm thinking that plenty of advance notice of the 50th might very well encourage someone to delve deep into the matter, track down the witnesses (if still living – and given that they were all teenagers at the time, there is a good chance they are all still alive), really do an in-depth study of the matter, and publish an exhaustive (or as exhaustive as is possible after 50 years!) report on the matter in time for the big half-century celebration.
So, I'm sure you're wondering by now: what are the details of the case? Well, they have been published in a variety of books over the years, but most recently they have been given an injection of new publicity in Neil Arnold's latest book, Shadows in the Sky. Basically, the saga – in very summarized form – goes like this:
It was late and dark on the evening of November 16, 1963 when a group of four teenagers – including seventeen-year-old John Flaxton and eighteen-year-old Mervyn Hutchinson – were walking home from a party when they saw a strange light over Sandling Park, which is located in Hythe, Kent, England.
But there was far more to come: the group fled in terror when, after flitting around the skies for a while, the light finally appeared to drop behind a group of trees, and a horrific-looking beast emerged from a nearby area of thicket.
Flaxton admitted to feeling "cold all over" by the sight of the shuffling, human-sized creature. Hutchinson, meanwhile, told police: "It didn't seem to have any head. There were huge wings on its back, like bat wings."
And there was more to come: On November 23, three giant footprints were also found in the vicinity which were said to have measured two feet in length and nine inches across. A connection? Well, perhaps that question might be answered if someone reading this is up to the task of chasing down any and all leads that might still exist.
A case of hysteria and mistaken identity after a fun time at a local party? A definitive Mothman encounter, but of a very British variety? Or something else entirely? All valid questions, which is why I'm bringing it up today, and wondering if there is someone out there willing to really dig deep into this, find the key players, possibly even locate the original police reports (which should now be available via the Freedom of Information Act), and provide us with a solid, in-depth report right in time for the 50th anniversary of the Horror of Hythe.

About Nick Redfern
Punk music fan, Tennents Super and Carlsberg Special Brew beer fan, horror film fan, chocolate fan, like to wear black clothes, like to stay up late. Work as a writer.
Filed under 50th Anniversary Tributes, Cryptozoology, Eyewitness Accounts, Lair of the Beasts, Mothman, Winged Weirdies