Posted by: Nick Redfern on July 17th, 2013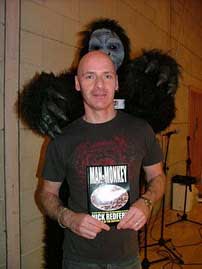 Over at his The Demon Hunter's Compendium blog, Kyle Germann digs into the strange saga of Dartmoor, England's "Hairy Hands" phenomenon.
He begins…
"Since the early 1900s, something sinister has haunted the back roads of Dartmoor in Devon, England. Around 1910, an unknown force began to torment the locals on what is now B3212 Road (which can be found between the villages of Postbridge and Two Bridges). By coincidence (or perhaps not), Dartmoor is also the setting of Sir Arthur Conan Doyle's 1902 crime thriller, The Hound of the Baskervilles, starring the world-famous detective Sherlock Holmes. According to local legends, this entity manifests itself as a pair of large, hairy disembodied hands. Sometimes, the Hands are described as having claws."
And here's the complete article on what is without doubt a very weird puzzle of somewhat cryptozoological proportions.

About Nick Redfern
Punk music fan, Tennents Super and Carlsberg Special Brew beer fan, horror film fan, chocolate fan, like to wear black clothes, like to stay up late. Work as a writer.