Posted by: Nick Redfern on November 17th, 2012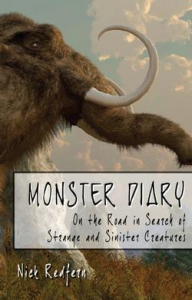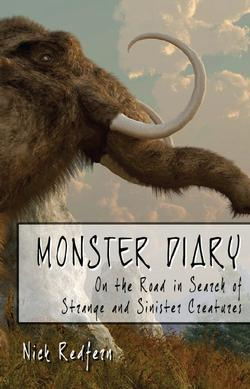 Anomalist Books have just published a new book from me: Monster Diary: On the Road in Search of Strange and Sinister Creatures.
Written in first-person style, the book chronicles my on-the-road investigations of all-things cryptozoological from early 2009 to late 2011.
And here's the AB background-info on the book…
MONSTER DIARY is the latest saga in Nick Redfern's ongoing series of worldwide road-trips in search of strange creatures and terrifying beasts.
In this transatlantic trek, Redfern is hot on the trail of…a Mothman-like creature in Wisconsin; giant eels that lurk in the canals of Birmingham, England; a spectral mammoth and a ghostly big-cat in American woods; Bigfoot in New Mexico; a Chupacabras in the wilds of Oklahoma; vampire-like beasts roaming the valleys of Wales; and California's very own shape-shifting Skinwalkers.
MONSTER DIARY reveals that many of the unknown animals of our planet are not all they seem to be. They may appear to be flesh-and-blood creatures, but is that what they really are?
Redfern sets out to prove that the true nature of the fearsome creatures that dwell in dark and shadowy woods, atop imposing mountainous peaks, and within the depths of murky lakes and rivers can only be understood with a knowledge of ancient rituals designed to conjure up foul life forms from some terrible realm, ominous sacrificial ceremonies undertaken in the dead of night, and disturbing occult rites.
Monsters do exist. Monsters are among us. But they are not what you probably think there are.

About Nick Redfern
Punk music fan, Tennents Super and Carlsberg Special Brew beer fan, horror film fan, chocolate fan, like to wear black clothes, like to stay up late. Work as a writer.