July 12, 2014
Bird-Headed Fish-Men and Pig-Riding Man-Beasts
In my previous ShukerNature blog article on Cryptomundo, I documented a remarkable drawing by the late artist Jean Claude Thibault, a Frenchman resident for many years in the Central African Republic (CAR). It depicts what appears to be the mysterious emela-ntouka or 'killer of elephants' – a horned aquatic cryptid also reported elsewhere in Africa under such names as the chipekwe and irizima. Moreover, this was just one of four pictures depicting intriguing CAR entities that had been drawn by Thibault (sometime during the early 1990s or late 1980s). The other three were just as interesting – depicting a bizarre bird-headed fish-eating humanoid entity known as the mondjoli-mbembe, and two different scenes featuring dwarf hairy man-beast-like beings known as pig genii – due to the traditional native CAR belief, depicted in one of these drawings, that they herd and even ride a species of wild forest-dwelling pig known as the red river hog.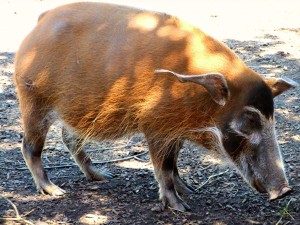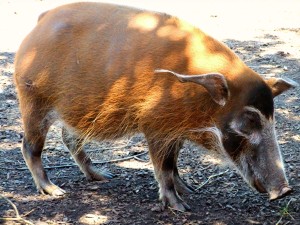 Photo of a red river hog ((c) Dr Karl Shuker)
But could these entities be more than just native folklore – might they be of notable cryptozoological significance?
Further details and the three drawings themselves can be found here on my ShukerNature blog.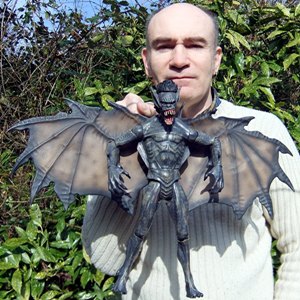 About Karl Shuker
My name is Dr Karl P.N. Shuker. I am a zoologist (BSc & PhD), media consultant, and the author of 25 books and hundreds of articles, specialising in cryptozoology and animal mythology. I have a BSc (Honours) degree in pure zoology from the University of Leeds (U.K.), and a PhD in zoology and comparative physiology from the University of Birmingham (U.K.). I have acted jointly as consultant and major contributor to three multi-author volumes on cryptozoology and other mysterious phenomena. I am the Life Sciences Consultant to The Guinness Book of Records/Guinness World Records (Guinness: London, 1997-present day), and was consultant to Monsters (Lorenz Books: London, 2001), as well as a contributor to Mysteries of the Deep (Llewellyn: St Paul, 1998), Guinness Amazing Future (Guinness: London, 1999), The Earth (Channel 4 Books: London, 2000), and Chambers Dictionary of the Unexplained (Chambers: London, 2007). I appear regularly on television & radio, was a consultant for the Discovery TV series Into the Unknown, and a question setter for the BBC's quiz show Mastermind. I am a Scientific Fellow of the Zoological Society of London, a Fellow of the Royal Entomological Society, a Member of the Society of Authors, and the Cryptozoology Consultant for the Centre for Fortean Zoology (CFZ). I have written articles for numerous publications, including Fortean Times, The X Factor, Paranormal Magazine, FATE, Strange Magazine, Prediction, Beyond, Uri Geller's Encounters, Phenomena, Alien Encounters, Wild About Animals, All About Cats, All About Dogs, Cat World, etc. In 2005, I was honoured by the naming of a new species of loriciferan invertebrate after me - Pliciloricus shukeri.
Filed under Cryptoart, Cryptozoology, Folklore, Proto-Pygmies, ShukerNature, Swamp Monsters