Posted by: Karl Shuker on May 9th, 2014
It was back in July 1997 when a curious snippet that apparently featured a while earlier on the internet (possibly in the Virtual Bigfoot Conference website) was brought to my attention by English palaeontologist Dr Darren Naish. However, its mysterious claim is still unverified today, so I'm posting it here on Cryptomundo in the hope that readers may be able to help me finally resolve this very curious but highly intriguing crypto-dilemma. As far as Darren could recall, the snippet claimed that several sightings had been made, the most recent during 1975, of a 7-ft-tall bird in the Mount Adams area of Washington State, USA, and which had been likened to a giant brown bird, called the pach-an-a-ho' (variously translated as 'crooked-beak bird' or 'rough-looking bird'), from traditional Yakima legends.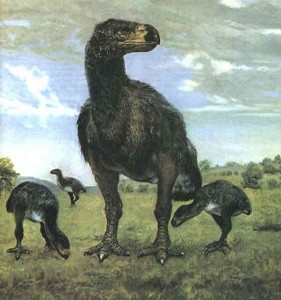 Zdeněk Burian's famous artistic reconstruction of Diatryma [=Gastornis] giganteus (© Zdeněk Burian)
In addition, a party of Native Americans apparently visited a certain American museum not long before the snippet appeared online, and became very excited when they saw a life-sized reconstruction of a giant species of flightless, putatively predatory anseriform bird from prehistoric (mid-Eocene) North America called Diatryma [aka Gastornis] giganteus, because they claimed that this was the pach-an-a-ho' !!
Further details can be obtained here on my ShukerNature blog.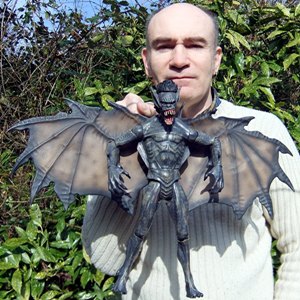 About Karl Shuker
My name is Dr Karl P.N. Shuker. I am a zoologist (BSc & PhD), media consultant, and the author of 25 books and hundreds of articles, specialising in cryptozoology and animal mythology. I have a BSc (Honours) degree in pure zoology from the University of Leeds (U.K.), and a PhD in zoology and comparative physiology from the University of Birmingham (U.K.). I have acted jointly as consultant and major contributor to three multi-author volumes on cryptozoology and other mysterious phenomena. I am the Life Sciences Consultant to The Guinness Book of Records/Guinness World Records (Guinness: London, 1997-present day), and was consultant to Monsters (Lorenz Books: London, 2001), as well as a contributor to Mysteries of the Deep (Llewellyn: St Paul, 1998), Guinness Amazing Future (Guinness: London, 1999), The Earth (Channel 4 Books: London, 2000), and Chambers Dictionary of the Unexplained (Chambers: London, 2007). I appear regularly on television & radio, was a consultant for the Discovery TV series Into the Unknown, and a question setter for the BBC's quiz show Mastermind. I am a Scientific Fellow of the Zoological Society of London, a Fellow of the Royal Entomological Society, a Member of the Society of Authors, and the Cryptozoology Consultant for the Centre for Fortean Zoology (CFZ). I have written articles for numerous publications, including Fortean Times, The X Factor, Paranormal Magazine, FATE, Strange Magazine, Prediction, Beyond, Uri Geller's Encounters, Phenomena, Alien Encounters, Wild About Animals, All About Cats, All About Dogs, Cat World, etc. In 2005, I was honoured by the naming of a new species of loriciferan invertebrate after me - Pliciloricus shukeri.