July 14, 2014
Giant Black Unicorns, a Chinese Quasi-Rhino Figurine, and the Enigma of Elasmotherium
A very considerable number of unicorn varieties have been differentiated in legends and folklore from around the world – everything from shape-shifting were-unicorns, carnivorous rabbit unicorns, polar bear unicorns with glowing horns, web-footed unicorns, swivel-horned unicorns, and man-eating unicorns with musical horns, to unicorn birds, unicorn snakes, unicorn snails, unicorn pigs, artificially-induced unicorns, and even two-horned unicorns (surely a contradiction in terms!).
One of the least-known members of this diverse array, however, is also among of the most fascinating – the giant black unicorn of Siberia. For this spectacular creature is not only of interest to students of animal mythology but may have significant cryptozoological relevance too.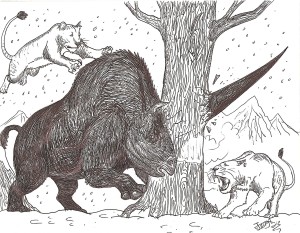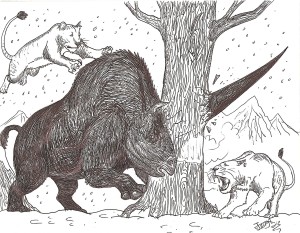 Elasmotherium ((c) Hodari Nundu/Deviantart.com)
The traditional lore of Siberia's Evenk people tells of a huge black bull-like creature bearing a single round, thick, tapering horn of immense size upon the middle of its head. This notoriously belligerent beast would charge at any Evenk rider that it spied, tossing the unfortunate man into the air if it could reach him, and spearing him when he fell back down to earth until he died. Moreover, its horn was so large and heavy that if one of these mega-unicorns were killed, the horn alone needed an entire sledge to transport it. Could this awesome but ostensibly fictitious animal have been inspired at least in part by a living species?
Further details can be found here on my ShukerNature blog.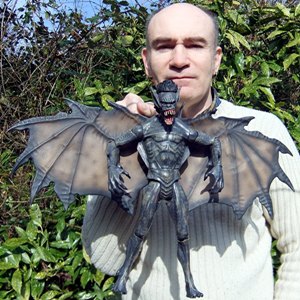 About Karl Shuker
My name is Dr Karl P.N. Shuker. I am a zoologist (BSc & PhD), media consultant, and the author of 25 books and hundreds of articles, specialising in cryptozoology and animal mythology. I have a BSc (Honours) degree in pure zoology from the University of Leeds (U.K.), and a PhD in zoology and comparative physiology from the University of Birmingham (U.K.). I have acted jointly as consultant and major contributor to three multi-author volumes on cryptozoology and other mysterious phenomena. I am the Life Sciences Consultant to The Guinness Book of Records/Guinness World Records (Guinness: London, 1997-present day), and was consultant to Monsters (Lorenz Books: London, 2001), as well as a contributor to Mysteries of the Deep (Llewellyn: St Paul, 1998), Guinness Amazing Future (Guinness: London, 1999), The Earth (Channel 4 Books: London, 2000), and Chambers Dictionary of the Unexplained (Chambers: London, 2007). I appear regularly on television & radio, was a consultant for the Discovery TV series Into the Unknown, and a question setter for the BBC's quiz show Mastermind. I am a Scientific Fellow of the Zoological Society of London, a Fellow of the Royal Entomological Society, a Member of the Society of Authors, and the Cryptozoology Consultant for the Centre for Fortean Zoology (CFZ). I have written articles for numerous publications, including Fortean Times, The X Factor, Paranormal Magazine, FATE, Strange Magazine, Prediction, Beyond, Uri Geller's Encounters, Phenomena, Alien Encounters, Wild About Animals, All About Cats, All About Dogs, Cat World, etc. In 2005, I was honoured by the naming of a new species of loriciferan invertebrate after me - Pliciloricus shukeri.
Filed under Artifacts, Cryptozoology, Extinct, Folklore, Megafauna, ShukerNature