Posted by: Nick Redfern on November 5th, 2012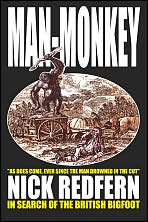 "On the chilly evening of January 21, 1879, a man was walking home, with his horse-and-cart in tow, along the tree-shrouded lanes that to this day still link the hamlet of Woodcote in Shropshire to the tiny locale of Ranton, Staffordshire, England. All was as it should have been until around 10.00 p.m., when barely a mile from Woodseaves and while crossing over Bridge 39 on the Shropshire Union Canal, the man's life was plunged into chaos and terror. Out of the darkened woods emerged a frightening beast: it was large, black-haired, monkey-like in appearance, and sported a pair of bright, self-illuminated eyes that glowed eerily and hypnotically.
"The monster suddenly jumped atop the cart, then, incredibly, leapt onto the back of the terrified horse, which took off in a frenzied gallop, with the cart careering wildly behind. The man, to his credit, gave chase, and finally caught up with the horse, cart, and beast. On doing so, he proceeded to hit with his whip what was surely the closest thing the British Isles have ever seen to Bigfoot."
That's how I start my latest Mysterious Universe post on a legendary beast of the British Isles…

About Nick Redfern
Punk music fan, Tennents Super and Carlsberg Special Brew beer fan, horror film fan, chocolate fan, like to wear black clothes, like to stay up late. Work as a writer.